Gamers await new graphics cards at CeBIT
Gaming and video fans are understandably eager for this year's CeBIT: The next generation of graphics cards will be on display at the computer fair in Hanover, ready to support the DirectX 10 standard that is integrated into Windows Vista.
The new graphics chips will make even sharper images a reality. Many hardware makers are also redoubling their efforts for more powerful graphics solutions for laptops.
"Graphic chips from the new generation are above all else of interest to gamers," says Carsten Spille, editor at the magazine PC Games Hardware.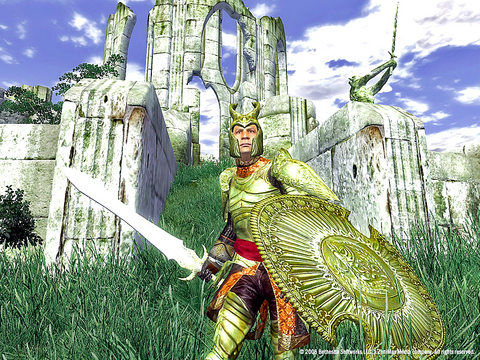 This image from the video game The Elder Scrolls IV: Oblivion, one of the most popular new games last year, was provided by its publisher, 2K Games. It shows a battle scene from the vast fantasy world presented in this game for Xbox 360 and PCs.
PHOTO: AP
The introduction of Windows Vista and the new DirectX10 graphics interface are intended to make games much more true-to-life.
"Things like light calculations and shading can be depicted much more clearly," says Jens Neuschaefer from graphic chip maker Nvidia Corp.
Improved processing of image data is also being aided by a new version of the "unified shader" architecture, allowing landscapes to be drawn more realistically, says Martin Grothe, a product manager from Elitegroup Computer System Co (精英電腦) in Munich.
The Taiwanese graphic card maker is using the CeBIT fair to exhibit a model from the Nvidia chip family, the N8800GTX-768MX: as with all cards with current Geforce-8 processors, the card possesses 768 Megabytes of GDDR-3 memory with 1.8 Gigahertz of processing power and a 575 megahertz chip.
Need your pixels to whiz even faster? Overclocked chips are probably the best option: Asustek Computer Inc (華碩電腦) is presenting a water-cooled card at the CeBIT, the EN8800 GTX, which manages to milk roughly 11 percent more power from the Nvidia chip. That adds up to a 630 Megahertz processor with two gigahertz of effective storage space.
Users can certainly expect new speed records in the competition between Nvidia and Advanced Micro Devices Inc (AMD)-subsidiary ATI Technologies Inc: ATI is using the CeBIT to premiere a new series of cards that, according to unofficial press reports, will be called X-2000 and feature a processor named R600. That will make the race for the speed title all the more narrow, Spille says.
"Nvidia has until now been way ahead of the competition-but with the new graphic chip AMD may catch up to them," Spille says.
The ATI chip will also support DirectX 10 and offer improved "shader" graphics. It is expected on the market by the end of the first quarter, says ATI spokeswoman Almut Otto from Munich.
Video fans will also be well served by novelties at the CeBIT fair -- the new crop of cards is particularly well suited for high-definition video content, Otto says.
Comments will be moderated. Keep comments relevant to the article. Remarks containing abusive and obscene language, personal attacks of any kind or promotion will be removed and the user banned. Final decision will be at the discretion of the Taipei Times.