Reassurance from Fed revives NYSE
INFLATION PRESSURE New data support the `soft-landing, Goldilocks economy,' which would allow the Fed to maintain or even cut interest rates, analysts said
Wall Street's rally is back on track after reassuring words from the US Federal Reserve and data backing the central bank's premise that the US economy is accelerating with modest inflation pressure.
In the week to Friday, the blue-chip Dow Jones Industrial Average jumped to fresh all-time highs before settling on Friday at 12,653.49, a weekly gain of 1.33 percent.
The broad-market Standard & Poor's 500 index picked up 1.84 percent to end the week at 1,448.39 and the tech-heavy NASDAQ composite index added 1.66 percent to 2,475.88.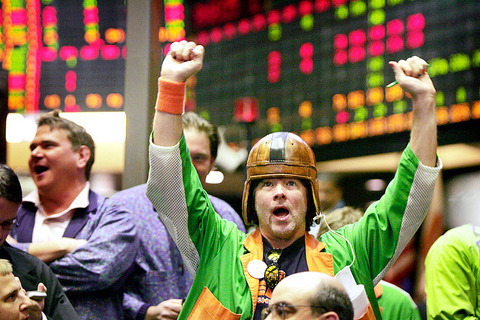 Wearing a vintage football helmet, Greg O'Leary signals offers in the wheat pit at the Chicago Board of Trade on Friday in Chicago, Illinois. Many of the workers at the exchange wore Chicago Bears gear to show their support for the team which will face the Indianapolis Colts in the Super Bowl today.
PHOTO: AFP
The key event of the past week was the Federal Reserve policymakers' two-day meeting, which ended on Wednesday.
As expected, the panel made no change to interest rates, and in its policy statement suggested the economy was hitting its stride with inflation diminishing.
Economic data seemed to back the Fed's view, with one report showing the US economy expanded at a 3.5 percent pace in the fourth quarter of last year.
A separate report showed 111,000 new jobs created in January, with upward revisions to earlier payrolls data, but only small gains in wages.
"Increasingly, it looks as if the US economy is in a sweet spot," said Marc Levesque, chief economics strategist at TD Bank Financial Group.
"Although the housing market correction has not yet run its course, consumer spending is holding up well," Levesque said.
"The evidence on the US economy pointed to healthy growth with limited, and perhaps declining, inflation pressures," said Stephen Gallagher, economist at Societe Generale in New York.
Gallagher and others said the latest news supports the "soft-landing, Goldilocks economy" which is not too hot or too cold, which would allow the Fed to hold rates steady for some time or even cut rates later this year.
"All is just right," Gallagher said. "Labor markets were the one fear in this otherwise fairly-tale economy. Yet, even the labor market appears to be conforming."
John Wilson, equity strategist at Morgan Keegan, said the market is shaking off fears that the economy may be too strong.
"We were into that `good news is bad news' mindset that occasionally pervades the trading floor," he said.
"Over the past several days, good news has become good news again as the economic releases seem to be pointing to a strong economy without inflation pressures to speak of. That's the ideal environment for stock prices," Wilson said.
One worry for some analysts is that the market has been moving up since July without a "correction" to take out some of its speculative fervor.
"We could get a correction any time soon because it's very rare to see eight consecutive months of gains," said Marc Pado at Cantor Fitzgerald.
Bob Doll, chief investment officer at the Wall Street firm BlackRock, agreed that stocks "are overdue for a correction" but does not believe it will end the bull market.
"Equities have enjoyed a largely uninterrupted positive run since July, and the Dow Jones, in fact, has now experienced its longest string in 50 years of not having a two-percent down day," he said.
"In our opinion, investors should certainly be cautious, and we do expect 2007 to be noticeably more volatile for stocks than 2006 was, but we reiterate our belief that this year should be another strong one for stocks," Doll added.
The bond market firmed. The yield on the 10-year Treasury bond fell to 4.827 percent from 4.879 percent a week earlier while that on the 30-year Treasury bond dipped to 4.926 percent against 4.980 percent. Bond yields and prices move in opposite directions.
In the coming week the market will digest a survey from the Institute of Supply Management on the services sector of the US economy, and quarterly results from tech bellwether Cisco Systems and media-entertainment giants Disney and News Corp.
Comments will be moderated. Keep comments relevant to the article. Remarks containing abusive and obscene language, personal attacks of any kind or promotion will be removed and the user banned. Final decision will be at the discretion of the Taipei Times.