Tsann Kuen China's suspension raises concern over losses
Shares of Tsann Kuen Group (燦坤實業), the nation's largest home appliance and consumer electronics chain, dropped 2.4 percent to NT$30.50 (US$0.9) on the local bourse yesterday on investor concern over widening losses at its subsidiary in Xiamen, China.
Tsann Kuen Group yesterday said that its Chinese subsidiary, Tsann Kuen (China) Enterprise Co (廈門燦坤實業), had applied for a suspension in trading of its shares on the Shenzhen Stock Exchange.
The application was filed in accordance with Chinese regulations requiring listed companies to suspend trading before the announcement of critical information, Tien Chu-ying (田竹英), Tsann Kuen vice president and spokeswoman, said in a filing to the Taiwan Stock Exchange yesterday.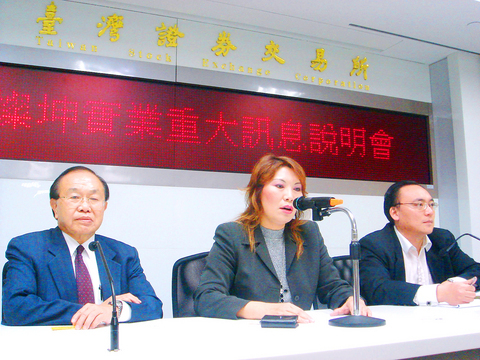 Tien Chu-ying, center, vice president and spokesperson of Tsann Kuen Group, yesterday announces that trading of shares of its subsidiary Tsann Kuen (China) Enterprise Co had been suspended, but expected to return to normal within a week.
PHOTO: CNA
Trading of Tsann Kuen (China) shares was suspended starting yesterday, Tien said, but the company is operating as normal.
Tien added that trading on the Shenzhen Stock Exchange was expected to resume in a week's time.
Tsann Kuen holds 62.3 percent of the Chinese subsidiary, which operates two production facilities in Xiamen and Zhangzhou, both in Fujian Province.
Tsann Kuen posted the news on the Taiwan Stock Exchange on Sunday afternoon, sending the stock down in trading yesterday.
The announcement triggered speculation that losses continue to widen in Tsann Kuen (China), or that it was a potential buyout target for Hon Hai Precision Industry Co (鴻海精密), the world's largest contract electronics manufacturer.
Tsann Kuen (China) posted net losses of 235.4 million yuan (US$30.2 million) in the first three quarters of last year, slightly lower than losses of 242.9 million yuan during the same period in 2005, statistics released by the Shenzhen Stock Exchange show.
Hon Hai declined to comment on the matter yesterday.
"Our current cash flow is NT$3.7 billion, and we expect our 3C [computers, communications and consumer electronics] businesses in Taiwan to post sales of NT$30 billion this year, with profitability improving," Tien said.
Tsann Kuen posted NT$29.6 billion in revenues last year, slightly down from NT$30 billion in 2005.
On July 5, 2005, Tsann Kuen decided to sell its money-losing retail stores in China to its bigger rival, Yongle Electric Appliance Co (永樂家電), China's third-largest home appliances retailer.
All 35 retail stores and warehouses were sold to Yongle for 143.8 million yuan.
The move came after Tsann Kuen -- which moved into China with the establishment of its first store in Shanghai in April 2003 -- saw losses from its operations across the Strait and decided to shift its focus to home-appliance manufacturing there and the retail market in Taiwan.
Shares of Tsann Kuen have also been banned from margin trading on the Taiwan Stock Exchange since last May because of its failure to submitted its audited financial report on time.
Comments will be moderated. Keep comments relevant to the article. Remarks containing abusive and obscene language, personal attacks of any kind or promotion will be removed and the user banned. Final decision will be at the discretion of the Taipei Times.