Trade continuing to post solid gains
CHINESE DEPENDENCY Taiwan's exports to Hong Kong and China increased to 41 percent of total exports last month (US$8.01 billion), the highest proportion on record
Overseas trade continued to post stable growth last month as sales to Hong Kong, China and Europe expanded by over 11 percent, the Ministry of Finance said yesterday.
Exports last month surged to the fourth highest level in history at US$19.54 billion, up by 8.2 percent year-on-year, Lee Li-shue (李麗雪), director of the ministry's statistics department, told a press conference.
Imports reached US$17.12 billion, the sixth highest level on record, up 7.9 percent over last year, Lee said. The nation posted a surplus last month of US$2.42 billion, she added.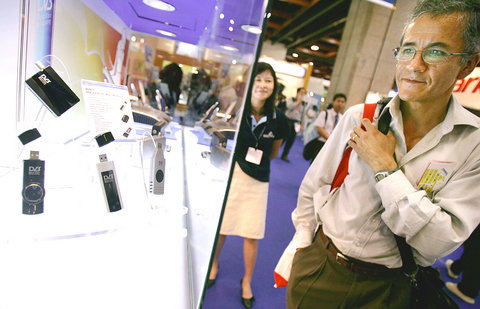 A visitor looks at computer products during the Computex expo in Taipei in June.
PHOTO: AP
As Taiwan has recorded strong growth in overseas trade this year, with several months registering double-digit increases, Lee said it would be difficult to maintain this performance into next year and single-digit expansion was ex-pected in the next 12 months.
The Directorate General of Budget, Accounting and Statistics (DGBAS) has forecasted that Tai-wan will see exports increase by 6.1 percent and imports increase by 6 percent next year.
Taiwan's exports to Hong Kong and China increased to 41 percent of total exports last month (US$8.01 billion), the highest portion on record, the data showed.
For the first 11 months of the year, Taiwan's export volume reached US$204.42 billion, up by 13.3 percent from the same period last year, as sales to China, ASEAN and the US posted growth of over 11 percent.
Imports between January and last month totaled US$186.03 billion, increasing 10.5 percent from a year ago.
Counteracting factors include reduced imports of consumption goods, down by 1.1 percent year-on-year, due to worse-than-expected domestic consumer demand. Imports of capital equipment also dropped by 2.6 percent as domestic economic expansion slowed and purchases of aircraft and other transportation equipment declined.
The period between January and November recorded a high surplus of US$18.39 billion, jumping by 50.7 percent over last year.
Lee said the whole-year surplus is expected to approach US$20 billion, the highest since 2004. In 2003, Taiwan recorded a surplus of US$22.59 billion.
In related news, the finance ministry yesterday slashed the government's budget deficit forecast this year by nearly 80 percent on the back of rising tax revenues and declining expenditures.
Tsai Ching-nain (蔡慶年), director general of the ministry's National Treasury Agency, estimated the budget deficit would reach NT$50 billion (US$1.55 billion) this year, down from the previous estimate of NT$239 billion.
Tsai also said the government plans to issue bonds worth NT$360 billion next year, with some of this dedicated to debt management.
Comments will be moderated. Keep comments relevant to the article. Remarks containing abusive and obscene language, personal attacks of any kind or promotion will be removed and the user banned. Final decision will be at the discretion of the Taipei Times.