Feature: Computer makers target art enthusiasts
NO LONGER LIFELESS BenQ and other computer makers have been attracting art-loving customers with innovative designs, but these tasteful gadgets come at a hefty price
By bundling brand-new elements such as leather covers and artwork with their gadgets, local technology firms have been injecting innovative ideas into their products in the hope of boosting their brand image.
But the high price tags of these flashy items could make them beyond the reach of average consumers, market watchers said.
BenQ Corp (明基), Taiwan's top handset maker, unveiled on Oct. 18 two models of its 17-inch liquid-crystal-display (LCD) monitor, the FP785+, with back cover designs featuring Chinese paintings by renowned Italian artist Guiseppe Castiglione.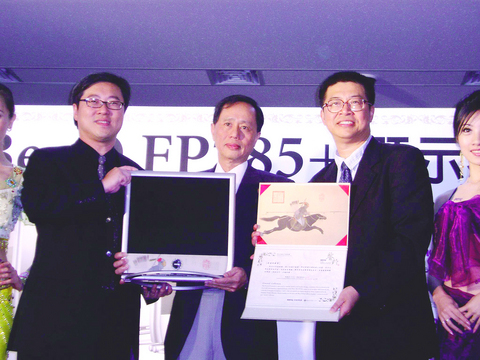 General manager of BenQ in Taiwan Hank Horng, right, deputy director of the National Palace Museum Lin Po-ting, center, and BenQ Lifestyles Design Center director Manfred Wang Oct. 18 display a new series of limited-edition liquid-crystal monitors with back covers decorated with paintings from the museum.
PHOTO: WANG YI-HUNG, TAIPEI TIMES
In a bid to attract male and female customers, one model depicts a battlefield background showing spears and horses, while the other highlights the beauty of flowers.
"With the introduction of the FP785+, electronic products are no longer icy and lifeless," said Hank Horng (洪漢青), BenQ Taiwan's general manager.
The monitors are sold on a per-order basis, and each model has a limited quantity of 1,300 units worldwide. A total of 400 units has been allocated for the local market.
This is not BenQ's first attempt to fuse art and technology.
In 2003, the company launched a notebook series, the Joybook 8000, which depicted the profoundness of Chinese culture with laptop covers that included cursive calligraphy based on a masterpiece from the Tang Dynasty.
But these "crossover" products do not come cheap, as BenQ has to pay royalties to the National Palace Museum for the right to use the Castiglione paintings on its monitors.
People who want to put the FP785+ in their study rooms will have to spend NT$15,000 (US$454).
The price is nearly double that of a common high-end 17-inch LCD monitor, which generally sells for approximately NT$8,000.
Only computers with larger screens, such as 19 inches, sell above the NT$10,000 mark.
But BenQ believes that its esthetic monitors will have no trouble attracting art-loving customers.
"There is a serial number and a certificate for each unit. We are pushing them in limited volume to entice buyers," Horng said.
In fact, "crossover" and "fusion" elements for portable computer designs have become increasingly popular in recent years.
Acer Inc, the world's fourth-largest personal computer maker, debuted in 2003 its first notebook sporting a Ferrari schema with a logo of the famous Italian auto maker's leaping stallion near the keyboard.
Smaller rival Asustek Computer Inc (華碩電腦) is not missing out on the trend, with the introduction of two such products this year.
It signed a deal with Italian sports car maker Lamborghini SpA in January to design and sell notebooks bearing both the Asustek and Lamborghini names.
"The limited editions of Lamborghini notebooks are for individuals who are into tasteful collections," said Asustek sales director Kevin Lin (林福能).
He claimed that its stunning NT$108,000 price tag had not scared users away, and that instead the product had received rave reviews from luxury-car fans, top-level executives as well as individuals who are attracted by fine industrial designs.
All 5,000 limited units of the Lamborghini laptops were sold out shortly after being launched in July, he said.
Another model, the S6, is boasting a leather cover, jeweled hinge and polished keyboard.
Every piece of leather is handpicked and embellished onto the aluminum body, with final products subjected to rigorous quality tests such as heat, oil and sweat resistance, Asustek said.
These leather laptops are not sold in limited quantity, but the company will continue to catch buyers' eyes with the addition of new colors in the future, Lin said.
With the exquisite S6, Asustek says it intends to break into the Japanese market, which has long been dominated by domestic brands.
To Tung Cheng-che (董誠哲), a 52-year-old dentist who owns a clinic in Pingtung, these "fusion" products justify the price tags.
He was one of the early birds who obtained BenQ's FP785+, the battleground scene version.
An earlier version of the FP785+ caught his attention about a year ago, but he decided that now is a good time to make the purchase as the new monitor comes with improved specifications.
"I am always into something artistic with fine quality. I like Castiglione's painting and the portability of the monitor," he said.
While acknowledging the trend of these crossover products to boost a company's image, market watchers are doubtful that the hefty price tags can make such merchandise appealing to people from all walks of life.
"By launching these fashionable products, vendors are trying to maintain their image by letting consumers aware of their technological capabilities," said Amy Teng (鄧雅君), an analyst at Gartner Inc's Taiwan office.
The economy of scale for those products is small and therefore they will not overtake mainstream products, which are sold in massive quantities, she added.
Instead, she said, users will think of the superior quality of such products and then opt for the company's less expensive ones.
What matters most for consumers is getting the best performance at the most affordable price, she said. "After all, they are the ones who need to dig into their pockets for a product and have to justify the costs."
Comments will be moderated. Keep comments relevant to the article. Remarks containing abusive and obscene language, personal attacks of any kind or promotion will be removed and the user banned. Final decision will be at the discretion of the Taipei Times.