Brazilian court cancels sale of Varig
TURBULENCE The decision added to the woes of the bankrupt airline, whose passengers, including many attending the World Cup, have been stranded abroad
A Brazilian court on Friday canceled the sale of bankrupt airline Varig to an employees group after it failed to make a deposit on time, and delayed a decision on the carrier's fate until next week.
The sale to NV Participacoes, a consortium of Varig employees and unidentified investors, "was invalid because of the failure to pay" a US$75 million deposit, the court of Rio de Janeiro announced in a statement.
"The future of Varig will be resolved next week," it said.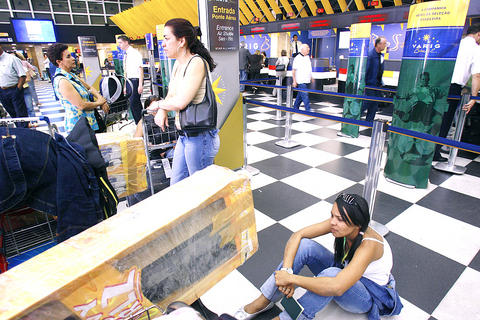 Varig airlines passengers who had their flights canceled wait at the Congonhas airport in Sao Paulo, Brazil, on Friday.
PHOTO: AP
The court outlined its three options: organize a new auction, call for a meeting of creditors or declare the liquidation of the airline at the request of some creditors.
The announcement came minutes after NV Participacoes said it could not pay the deposit.
"We have not made the deposit. We have not been able to reach an agreement with the investors so that they deposit the money," said Marcio Marsillac, an official of NV Participacoes, which made a US$449 million offer to buy the heavily indebted airline. "We don't know what will happen. It is up to the judge to decide now."
Bankruptcy judge Luiz Roberto Ayoub is overseeing the company which has been operating under bankruptcy protection since June last year.
Ayoub confirmed Friday news reports of another takeover offer for Varig, from Varig Log, the carrier's former freight subsidiary which was sold in 2005 to the consortium Volo Brasil, grouping US investment fund Matlin Patterson and Brazilian investors.
Varig Log reportedly offered some US$500 million for Varig -- US$100 million more than it offered two months ago.
Like the two previous days, about two-thirds of Varig's flights were cancelled on Friday, leaving thousands of passengers stranded in airports in Brazil and abroad.
It was in danger of running out of jet fuel for lack of payment. Infraero, the state airports authority, threatened to demand cash for its unpaid airport taxes.
The former leading Brazilian airline can no longer pay its suppliers or its 10,600 employees.
The cash-strapped airline is saddled with more than US$3 billion in debt and deteriorating rapidly. It only has 19 planes in operation compared with 46 in early June.
The National Civil Aviation Agency has launched an emergency plan to deal with the crisis: 28,000 passengers holding Varig tickets are supposed to return to Brazil between now and June 30, including 5,600 attending the World Cup in Germany.
The agency claims to have found seats for the passengers on other airlines, but late Thursday dozens of Brazilians stranded in New York were still waiting for a flight home.
Two army aircraft will repatriate Brazilians if necessary, the agency said.
Once Brazil's indisputable leading airline, Varig's fortunes began to decline in the 1990s after it lost its monopoly on international routes. The last time Varig turned a profit was in 1995.
Comments will be moderated. Keep comments relevant to the article. Remarks containing abusive and obscene language, personal attacks of any kind or promotion will be removed and the user banned. Final decision will be at the discretion of the Taipei Times.