AUO predicts flat-panel improvement in Q3
LOOKING UP Although the company halved its shipment growth forecast last month, it said seasonal demand and falling prices would result in a turnaround
AU Optronics Corp (友達光電), the world's third-largest maker of liquid-crystal-display (LCD) panels, expects business to improve next quarter thanks to declining inventories and recovering demand, a company executive said yesterday.
The comments came after AU Optronics last month halved its shipment growth forecast for the second quarter as the company had overestimated demand, with the result that panel prices declined at a steeper-than-expected rate, especially those used in TVs.
AU Optronics had earlier anticipated that panel prices would start to stabilize in the middle of the second quarter ahead of a recovery early in the third quarter.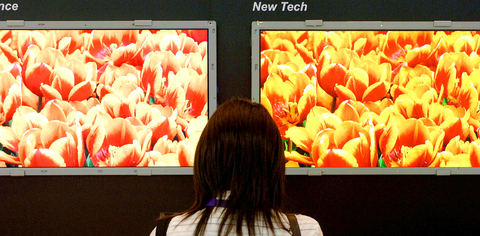 A woman looks at flat-panel displays during the FPD Taiwan 2006 show in Taipei yesterday. AU Optronics Corp expects the flat-panel market to recover in the third quarter.
PHOTO: SAM YEH, AFP
"We now believe the overall situation will improve gradually in the third quarter, rather than the second quarter, because of seasonal demand for consumer electronics and computers," AU Optronics president Chen Hsuen-pin (陳炫彬) told reporters on the sidelines of a flat-panel display show in Taipei.
In addition to the seasonal factor, Chen said falling prices and declining inventories would spur demand in the next couple of months. He also said that flat-panel makers were reducing production in light of falling prices.
A faster-than-expected price decline made the second quarter a tough period for most flat-panel makers, Chen said.
AU Optronics has lowered factory utilization to around 90 percent in the current quarter from over 95 percent in the first quarter. Larger rival LG.Philips LCD Co said on Monday that it would reduce output to manage inventories.
"As demand is still there ... our customers' shipments did not lag far behind expectations," Chen said, adding that his company's forecast for TV panel sales this year remained unchanged at 42 million units.
Chen declined to comment on a report in the Chinese-language Commercial Times yesterday that AU Optronics would start to supply 32-inch flat-panels to Japanese TV vendor Sony Corp in September. The report said that initial shipments would consist of as many as 60,000 panels per month.
Frank Lee (李宜家), who tracks the flat-panel industry for Deutsche Securities Asia Ltd, was more cautious than Chen.
Lee said he expected the industry to take until the middle of the year or even late in the third quarter to recover, despite the fact that local companies were taking aggressive steps to reduce production, with a special focus on 32 inch panels.
Lee foresaw downside risk for AU Optronics and smaller competitor Chi Mei Optoelectronics Corp (奇美電子) during the second quarter and third quarter on constant price declines for TV and computer panels.
"The chances of any significant earnings improvement are unlikely [in the early part of the third quarter]," Lee said, while keeping unchanged his "buy" rating on AU Optronics and Chi Mei at NT$42.55 and NT$36.76 respectively.
Shares of AU Optronics climbed 2.34 percent to NT$41.5, while Chi Mei rose 1.17 percent to NT$34.55 on the stock exchange yesterday.
Comments will be moderated. Keep comments relevant to the article. Remarks containing abusive and obscene language, personal attacks of any kind or promotion will be removed and the user banned. Final decision will be at the discretion of the Taipei Times.