Asian stocks shoot higher as inflation fears subside
REGIONAL MARKETS The TAIEX added 86.8 points on Friday, with investors egged on by a `convergence of positive leads at home and abroad,' one analyst said
Asian stocks closed sharply higher on Friday with investors cheering a rally on Wall Street where the latest economic data appeared to show solid economic growth with inflation mostly in check.
Mumbai led gains with a 3.7 percent surge while Jakarta followed with a near 2 percent rise. Taipei, Tokyo, Seoul, Hong Kong, Singapore and Bangkok all put on more than 1 percent.
However, dealers said not all the anxiety had abated from the market in the wake of last month's rout and many investors were in the sidelines awaiting further signs from the US on the state of its economy and the prospects for interest rates.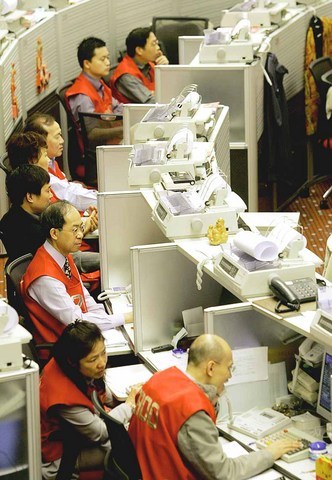 Traders work during morning trading at the Hong Kong Exchanges on the first trading of Bank of China on Thursday. Investors were snapping up shares in Bank of China in early trading on Thursday as the lender's initial public offering, the world's biggest in six years, hit the market in Hong Kong. Shortly after trading began, the stock's price was at HK$3.15 (US$0.40), 6.8 percent higher than its IPO price of HK$2.95.
PHOTO: AP
This was particularly the case in Kuala Lumpur, which closed flat, and in Shanghai and Manila where investors bucked the trend resulting in modest losses.
Investors were expected to focus on the release of US non-farm payrolls late on Friday for their next lead.
In Taipei share prices closed 1.26 percent higher following overnight gains on Wall Street and hopes for some easing in Taiwan's policies on China.
Dealers said investors were cheered by reports that the Mainland Affairs Council expects concrete progress on the issue of regular cross-strait charter flights in four to five months and that more Chinese tourists may be allowed to visit Taiwan from Oct. 1.
The TAIEX added 86.80 points at 6,959.64 on turnover of NT$95.18 billion (US$2.97 billion).
"A timely convergence of positive leads at home and abroad contributed to today's bull run," SinoPac Securities Corp (建華證券) assistant vice president Alvin Teng (鄧可欣) said.
Apart from the Wall Street lead, investors were encouraged by growing signals that the government is getting serious about improving links with China, he said, noting President Chen Shui-bian's (陳水扁) decision to hand over some powers to the Cabinet.
Tokyo share prices ended a rollercoaster week on an upbeat note after a late flurry of buying lifted the benchmark NIKKEI index up 1.84 percent ahead of key US jobs data.
Dealers said shares had swung in and out of positive territory, at one point hitting a four-month low on worries about prospects of higher interest rates and reports of a probe into a high-profile Japanese investment fund.
By the close the NIKKEI-225 index was up 285.57 points at 15,789.31.
"Some short-term players who had gone too short [sold] on blue-chips rushed to cover positions ahead of the release of US May non-farm payroll data," Shinko Securities market analyst Yutaka Miura said.
If the US jobs figures come in weaker-than-expected, that would reduce the pressure for higher US interest rates, a major concern of the moment.
Seoul
Seoul share prices closed 1.08 percent higher, recovering back above the key 1,300 points level as investors welcomed the stronger performance on Wall Street overnight.
Dealers said the market lost some ground on foreign investor selling but managed to close near the day's high on heavy gains by large caps such as Samsung Electronics.
The KOSPI index closed up 13.95 points at 1,309.04.
"The market clawed back to the 1,300 points level on the Wall Street lead but I'm not sure whether we're off the bottom," Samsung Securities analyst Oh Hyun-Seok said, adding investors are struggling with the prospect of further US rate hikes.
Hong Kong shares prices closed 1.71 percent higher on strong gains in China Mobile and other Chinese telecom stocks as investors hunted for bargains after recent sharp falls.
Dealers said liquidity was boosted as funds locked in Bank of China's US$9.7 billion initial public offering started flowing back into the market.
Meanwhile, interest rate worries also eased to some extent after data indicated that US inflation is being contained but the key figures due will come later on Friday in the US non-farm payrolls.
The Hang Seng Index closed up 267.44 points at 15,912.71.
"Selling pressure in Hong Kong and elsewhere in the region has subsided and most investors believe that the [US] Fed is unlikely to raise rates soon," said Winner Lee, associate director at BNP Paribas.
Shanghai share prices closed 0.88 percent lower, with investors taking quick profits in heavy trade after Thursday's sharp rise to fresh two-year highs.
Dealers said the reverse, however, was relatively modest, with sentiment positive and turnover picking up again despite some concerns over liquidity as more companies prepare to raise funds via new share offers.
The Shanghai A-share Index fell 15.56 points to 1,754.00 and the Shenzhen A-share Index was down 2.64 points or 0.59 percent at 443.87.
The benchmark Shanghai Composite Index, which covers A and B-shares, fell 14.80 points or 0.88 percent at 1,669.40.
"The market performed well in the morning with some stocks seeing sharp gains before closing lower on profit-taking," said Zhu Haibin, an analyst with Shanghai-based Everbright Securities.
Sydney share prices closed 0.33 percent higher but support eased off through the session as the market failed to capitalize on the strong gains on Wall Street overnight.
Dealers said continued falls in metal and commodity prices overnight hit top miners BHP Billiton and Rio Tinto again and while these two key stocks remain under pressure there is little chance of any sustained advance.
The SP/ASX 200 index rose 16.6 points to 5,077.2.
CMC Markets' senior dealer James Foulsham said that volatility continued to define share trading with the market opening stronger but losing momentum in the afternoon.
"The market was positive early on after a strong night in the US following a fall in the price in oil and some strong productivity numbers," he said.
Singapore
Singapore share prices closed 1.37 percent higher on bargain-hunting after overnight gains on Wall Street boosted market sentiment.
The Straits Times index closed up 32.72 points at 2,419.42.
"We've seen some bargain hunting today, triggered by Wall Street's gains overnight," a dealer with a local brokerage said.
Kuala Lumpur share prices closed flat as profit-taking in late trade erased modest gains posted in the morning session.
Dealers said investors ignored gains in regional markets due to fears that the markets could head downwards again next week.
The composite index closed up 0.27 points at 930.72.
Bangkok share prices closed 1.73 percent higher, led by rallies on Wall Street and in regional markets amid easing fears over rising US interest rates.
Dealers said foreign investors took heart from a robust increase in US labor productivity in the first quarter as a sign of showing solid growth in the world's biggest economy.
The composite index jumped 12.31 points to 722.61.
Jakarta share prices closed almost two percent higher as gains on Wall Street and in some regional markets encouraged bargain-hunting after two days of falls.
Dealers said global market sentiments dictated the local market's direction, noting that Jakarta's early morning weakness was due to falls in Tokyo.
The composite index closed up 26.126 points at 1,347.686.
Manila share prices closed 0.26 percent lower as investors took quick profits, with sentiment dampened by reports that government revenues may miss this year's target.
Dealers said there was no real impact after the central bank kept interest rates unchanged on Thursday despite prevailing concerns about a possible hike.
The composite index slipped 5.98 points to 2,304.17.
Wellington share prices closed 0.86 percent higher with a lower local currency boosting exporters and investors eyeing possible renewed takeover activity.
The NZSX-50 gross index rose 31.31 points to 3,639.15.
Mumbai share prices rose 3.7 percent, snapping three days of losses, led by firmer global market trends and investor buying at lower levels.
Dealers said it was the biggest single-day gain for the markets in nearly two years, after a fortnight of sharp losses which saw the benchmark SENSEX index slipping over 17 percent since record highs early last month.
The 30-share Mumbai stock exchange SENSEX closed up 379.91 points at 10,451.33.
The markets opened cautiously, fell close to the 10,000 level but recovered in afternoon trade on sustained buying in automobile and metal stocks.
"We saw some short covering against previous positions. It is too early to say what market trend emerges next week. There is some nervousness yet," said Naresh Garg, chief investment officer with the private-sector Sahara Mutual Fund.
Comments will be moderated. Keep comments relevant to the article. Remarks containing abusive and obscene language, personal attacks of any kind or promotion will be removed and the user banned. Final decision will be at the discretion of the Taipei Times.