Planning for future financial prosperity
Juggling the roles of an umbrella regulator, active promoter and reformer of the nation's financial sector, the Financial Supervisory Commission seems to be constantly in the spotlight. Chairman Kong Jaw-sheng talked with `Taipei Times' staff reporter Amber Chung about his vision for Taiwan's capital markets
Taipei Times: People have been expecting the proposed foreign-currency denominated "offshore bourse" to expand Taiwan's capital markets. Do you have a clear timetable to carry out this unprecedented redesign of the nation's fund-raising sector? [Editor's notes: the offshore bourse comprises stock exchange, bond and futures markets. The bond and gold futures exchanges are slated to kick off early next year.]
Kong Jaw-sheng (龔照勝): We plan to submit a complete programme to the Executive Yuan for review by the end of this year. The timing to launch the US dollar-denominated stock market could fall in the middle or second half of next year, following a series of overseas promotions and a review of applications in the first half of the year.
We hope to recruit about 20 companies to go public in the bourse once it is inaugurated. We are targeting companies or joint ventures that specialize in either traditional industries or the high-tech sectors and have development potential and are established outside the territory by overseas Chinese and foreigners.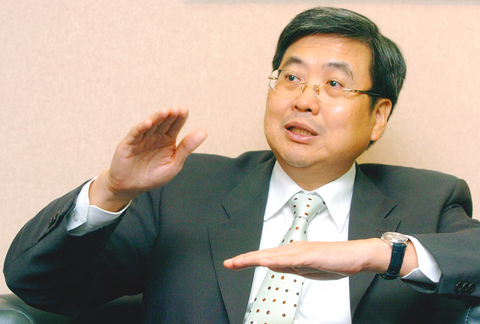 Financial Supervisory Commission Chairman Kong Jaw-sheng thinks Taiwan has to be active in raising its international visibility.
PHOTO: LO PEI-TEH, TAIPEI TIMES
These firms must be profitable and have at least US$30 million in market capitalization. We have exchanged views on this matter with several entrepreneurial leaders but have no real talks going on for the moment.
TT: McKinsey & Co said recently Taiwan has only one golden year left in which to build up the nation's position as a regional fund-raising hub, as increasing numbers of China-based Taiwanese companies make their initial public offerings (IPO) in Hong Kong, rather than in Taiwan. Has the plan been delayed by the Mainland Affairs Council over capital outflow concerns?
Kong: The launch of the offshore bourse is not being delayed and has certainly not been blocked by the council. The commission needs time to solicit viewpoints from interested parties and professionals and to engineer crucial support measures related to the US dollar settlement mechanism, application review, underwriters' pricing and market-making activities.
Taiwan has failed to seize two significant opportunities to develop into a regional finance hub in the past -- one was in 1995 to 1996, when the nation vowed to turn itself into a regional operations center, and the other was in 1997 and 1998, when the Asian Financial Crisis ailed most of the countries in the region, except for Taiwan. Therefore, we must take this chance to make a success of launching the international bourse through thorough planning. We will not allow Hong Kong to overtake Taiwan and become an alternative version of the nation's offshore bourse.
Hong Kong may attract IPOs but Taiwan is powerful as a refinancing platform. With advantages of high liquidity and strong bases of manufacturing and high-tech industry, Taiwan stands a good chance of becoming a fund-raising center in the region.
TT: The initiative of setting up the international bourse is in part designed to woo the funds of China-based Taiwanese firms that are subject to a regulatory investment cap, which states that only 40 percent of capital raised in the nation can be invested in China. Has the commission suggested any relaxation of this restriction to the related government agencies? Can China-based Taiwanese firms go public in the planned offshore bourse?
Kong: We found through our meetings with overseas investors last month that they were more confident in Taiwan's ability to become a regional finance hub than we had originally thought. However, they suggested that a more practical cross-strait policy is required -- one which separates economic issues from political ones -- if Taiwan is to reach its goals. They raised concerns over the investment cap that forces China-based Taiwanese companies to raise funds outside the nation.
We have made suggestions and communicated with the relevant agencies within the Cabinet about the restriction and are waiting for an agreement to be reached. [Editor's note: the commission said earlier last week that they had proposed lifting the upper limit of the investment cap under certain conditions, including repatriating profits made in China to Taiwan to contribute to cash dividends and strengthen corporate governance, and that the proposal is under preliminary inter-party discussion.]
China-based Taiwanese companies, in principle, must comply with the related regulations of the Statute Governing the Relations Between the People of the Taiwan Area and the Mainland Area (兩岸人民關係條例) to be listed in the offshore bourse. Therefore, it will require gradual steps to complete the functions of the offshore bourse and the issue does not enjoy priority for the moment.
TT: The government has vowed to halve the number of financial holding firms to seven by the end of next year. But 11 out of 14 financial holding companies expressed their intention of not wanting to be taken over last week. What is the commission's view?
Kong: The commission highly respects free market mechanisms while creating a consolidation-friendly environment by regulatory relaxation. It is not always bad for banks to be taken over, as long as the merger deals serve shareholders' rights and interests.
We are planning a stick-and-carrot policy in this regard by formulating a set of competitiveness indices, which is expected to be completed by year's end. The indices' criteria would include overseas operations, financial performance in compliance with the Basel II standards on risk management as well as corporate governance. We would solicit professional opinions from academics and the industry for further details.
TT: Given that most of Taiwan's top financial holding firms are family-controlled groups, is the commission formulating stricter supervision measures on these financial conglomerates to relieve public concerns?
Kong: Unlike foreign banking sectors that have experienced long-term development, Taiwan's finance industry is still young, and therefore many private financial institutions are still family-controlled businesses. It is inevitable for financial institutions to consolidate into financial blocs, but this is not necessarily translated into the emergence of financial conglomerates controlled by certain powerful families.
The commission has drafted amendments to the Securities and Exchange Law (證券交易法) on the establishment of independent board directors with priority application to financial holding firms, the planned competitiveness indices, and the regulations over qualifications for major shareholders and the strengthened restrictions over financial holdings' re-investment, which could all help strengthen our supervisory power.
TT: What are the major achievements of the Taiwan investment forums in New York and London last month?
Kong: Overseas investors are major shareholders of Taiwan's stock market, with 30 percent share of market value. It was a great opportunity to make updates of Taiwan's capital market and introduce competitive industries to international investors through the forum, in which we met over 600 investors and financial professionals who manage a total of US$5.82 trillion in assets, or over 70 percent of global assets.
We also took the chance to stress Taiwan's resolve to push forward with financial reforms to ease foreign investors' concerns following the failed share sale of state-controlled Taiwan Business Bank (台灣企銀). Also, Morgan Stanley Capital International chairman Henry Fernandez agreed to cooperate with the Taiwan Futures Exchange to develop US dollar-denominated futures and options products, while Lehman Brothers agreed to include Taiwan's bond market in its Global Aggregate Index, one of the most-referred indices by global investors. All these activities enhance Taiwan's visibility in the global investment arena. We will be holding overseas roadshows in Japan and the Middle East to promote the offshore bourse early next year.
TT: Howard Davies, former chair of the UK's Financial Services Authority (FSA), said in his trip to Taiwan in September that it is very difficult in the long run for one agency to serve as the regulator and the promoter of a financial system. Do you agree?
Kong: As a seasoned financial professional with more than 20 years of experience in foreign banks, I think Taiwan has to be active in raising its international visibility through promotion, especially with an eye to becoming a regional financial services hub. The resources and connections I fostered in past work experience can be utilized to facilitate the goal and this is in part why I was appointed.
Even FSA officials said in the forum that they are impressed by Taiwan's efforts to push forward with reforms. The authority should take the lead in this process.
Comments will be moderated. Keep comments relevant to the article. Remarks containing abusive and obscene language, personal attacks of any kind or promotion will be removed and the user banned. Final decision will be at the discretion of the Taipei Times.