Asian stocks down on gloomy outlook
NEGATIVE TONE A struggling GM, the Bush administration's troubles, bird flu and inflation fears combined to send most regional markets tumbling ahead of holidays
Asian stocks tumbled to a much lower close on Friday, following Wall Street's path which was led by an ailing General Motors and a possible indictment of Bush administration officials, dealers said.
They said other factors added to the gloom in Asian trade, including possible outbreaks of bird flu and the Achilles heel of equities, inflation, that could result in the US Federal Reserve raising interest rates next week.
Increased tensions in the Middle East after Iranian President Mahmoud Ahmadinejad called for Israel to be "wiped off the map" did not help.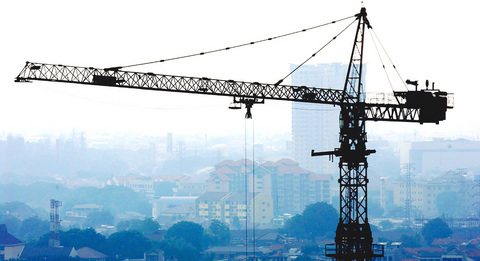 A crane is left idle at a construction site in Jakarta yesterday, as workers started leaving for their home towns to celebrate Eid al-Fitr. Trading on Indonesia's stock market is expected to be subdued in the coming week as investors are in a holiday mood ahead of the Muslim Eid al-Fitr festival.
PHOTO: AFP
However, overall volumes were thin with investor attention turning towards a string of holidays scheduled for many markets next week.
Seoul continued its volatile ride and shrank by 2.2 percent while Shanghai, Sydney and Hong Kong were not far behind.
In Taipei, share prices closed 0.50 percent lower, continuing weaker as investors chose to stay on the sidelines following further Wall Street losses.
Dealers said the tone remained negative overall while there was a bout of heavy futures-linked selling near the close by foreign investors looking to adjust positions ahead of the expiry of the October contracts.
The weighted index lost 28.21 points at 5,632.97 on turnover of NT$68.19 billion (US$2.03 billion).
Japan down
In Tokyo, share prices closed 0.53 percent lower as investors reacted with concern to weak industrial output data and further declines in US stocks,
Dealers said investors were also reluctant to trade actively ahead of major corporate results and third-quarter US gross domestic product figures due later in the day.
The Nikkei-225 index declined 70.54 points to 13,346.54.
A series of data raised some concerns about the slow pace of recovery in Japan but no one was suggesting that there was any reason to panic just yet.
The market rose strongly through last month on growing optimism the economy was finally on the road to recovery but the latest figures may have dented some of that confidence.
Japanese industrial output rose 0.2 percent last month compared with from the previous month, well below market expectations of 2.1 percent, whilst consumer prices fell 0.1 percent year-on-year in the month, pointing to a continued problem of deflation.
Volatile Korea
In Seoul, share prices closed 2.2 percent lower in volatile trade after IT stocks and banks tumbled on massive program selling.
Dealers said broad sentiment was hit hard by Wall Street's losses amid growing concerns over the health of General Motors whilst disappointing South Korean capital investment data for last month added to the negative tone.
Continued institutional investor sales were a cause for concern and putting a lot of pressure on the market.
News that corporate investment in plant and equipment fell 2.0 percent last month after a drop of 0.7 percent in August raised concerns about the economy going forward and may point to slower overall growth, dealers said.
The KOSPI index closed down 25.64 points at 1,140.72. Volume was 330 million shares worth 2.86 trillion won (US$2.75 billion).
Hong Kong falls
In Hong Kong, share prices closed 1.15 percent lower after further losses on Wall Street overnight, with investor sentiment also dampened by sustained worries about the possible spread of bird flu in China.
The Hang Seng index closed down 165.23 points at 14,215.83. Turnover was HK$21.96 billion (US$2.8 billion).
In Shanghai, share prices closed 1.54 percent lower, extending losses on liquidity concerns with oil refiners and automakers dragged down after several firms issued profit warnings.
Dealers said sentiment was hit by fresh speculation that regulators will soon resume initial public offers (IPO) after earlier vague reports that the authorities planned to speed up the disposal of state-owned, non-tradable shares in listed companies.
The Shanghai A-share Index lost 17.83 points to 1,136.27 on turnover of 7.96 billion yuan (US$981.50 million) while the Shenzhen A-share Index was down 6.39 points or 2.28 percent at 273.66 on turnover of 4.51 billion yuan.
The benchmark Shanghai Composite Index, which covers both A- and B-shares, shed 16.92 points or 1.54 percent at 1,080.87 on turnover of 8.02 billion yuan.
Dealers said rumors of a possible resumption of IPOs in the near future further increased liquidity concerns.
Comments will be moderated. Keep comments relevant to the article. Remarks containing abusive and obscene language, personal attacks of any kind or promotion will be removed and the user banned. Final decision will be at the discretion of the Taipei Times.