Tales told by Fortune 500 `comeback kids'
NOT FINISHED YET Carly Fiorina was forced to resign in February in one of the most widely chronicled dismissals in corporate history, and is eager to get back to work. But what are her chances of landing another job running a Fortune 500 company?
When Carly Fiorina, Hewlett-Packard's former chief executive, gave a long-planned commencement speech this month at North Carolina Agricultural and Technical State University, she commiserated a bit with the graduating students who were starting to look for jobs.
"I've been working on my resume," she said. "I've been lining up my references. I bought a new interview suit."
Clearly, Fiorina, who was forced to resign in February in one of the most widely chronicled dismissals in corporate history, is eager to get back to work. But what are her chances of landing another job running a Fortune 500 company?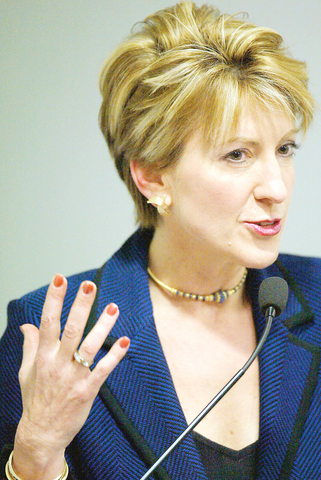 Carly Fiorina delivers a speech during a visit to the Hewlett-Packard's factory in Barueri, Brazil, in August 2004. Fiorina was being considered to head the World Bank, the New York Times said in March.
PHOTO: AFP
She can certainly take heart from the examples of others. America, after all, is the land of self-reinvention. Consider Donald Trump, who has weathered crushing debts and bankruptcy to become perhaps the nation's best-known businessman.
Or Steve Jobs, who was booted from Apple Computer as its fortunes flagged, went off to found the successful computer animation studio Pixar and then was invited back to Apple, where he is leading its renaissance.
Even being convicted of a crime need not be a career-stopper. Martha Stewart, most famously, seems to have survived time in prison for having lied to government investigators looking into a stock trade. She returned to her company last March as shareholders applauded.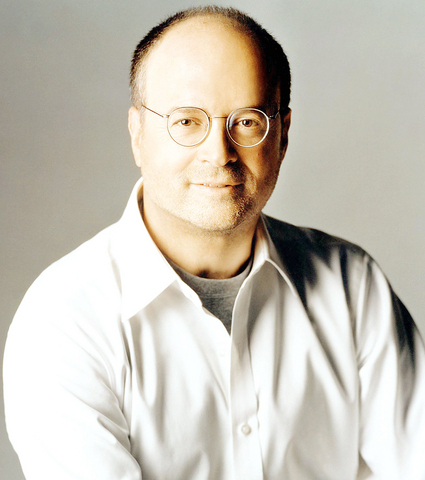 Millard Drexler, known as the Merchant Prince before his fall from grace at the Gap, has made his mark quickly and aggressively at the ailing J.Crew, with a rackful of big changes planned for early August.
PHOTO: NEW YORK TIMES
But for all the success stories, corporate comebacks are by no means easy. In fact, a 1999 study of chief-executive turnover at the 1,000 largest American companies by market capitalization found that fewer than half of the CEOs dismissed for negative reasons had returned to leadership roles. The study also included executives dismissed in the wake of mergers and for other reasons.
"There is a cloud that hangs over you," said Jeffrey Sonnenfeld, an associate dean at the Yale School of Management, who wrote the study with Andrew Ward, a professor of management at the University of Georgia.
"People are fearful of being associated with failure. You have to overcome that fear, and it is very difficult."
And the odds have become only longer since then. Corporate scandals of the last few years, and the governance and disclosure laws enacted in response, have made it more difficult for former chiefs to rebound.
"Corporate boards are more acutely aware of their responsibilities for oversight than ever," particularly after the passage of the Sarbanes-Oxley anticorruption law, Ward said, "and they are more accountable to shareholders, so in turn they are holding chief executives more responsible."
Boards are also less eager to take chances or to give an unemployed CEO the benefit of the doubt about previous performance. In the past, boards "thought of the company as a sports team that had had a bad run," Ward said. "They viewed the chief executive as the coach who, over the long term, had had a good record, and so they were willing to give him another chance," he added. "Now the hurdle is higher. The board is looking much more at the specifics of what happened in that particular case."
Nevertheless, executives can and do beat the odds. Some succeed by dint of their optimism, experts say, others by the skills that took them to the top in the first place. A few use connections made over the years. Often, they attain their goals simply because they refuse to give up.
When Millard Drexler, then 58, was unceremoniously ousted from Gap Inc in 2002, he could have just retired a wealthy man. Instead, he turned down the severance package because it came with a clause that would have forbidden him to work at another retailer.
"I wanted to get right back into the game," he said in a telephone interview.
Less than a year after Drexler left Gap, the private equity firm Texas Pacific Group hired him to revive J.Crew, the preppy clothing retailer. For him, it was an irresistible second act. In his two decades at Gap, he had built the company into one of the most successful retailing brands in history, though by 2002 it had reported 29 consecutive months of declining same-store sales -- those for stores open at least a year -- an important industry metric.
Being handed the reins of the floundering J.Crew was an opportunity for Drexler to rebound without having to start a company from scratch. "My skill is in taking an asset and expanding it in terms of its value," he said.
James Coulter, a founding partner of Texas Pacific, said he never flinched at hiring Drexler, whom he called "a legendary merchant" who could "walk into a room and pick out what would sell." Coulter recalled that when he introduced his sister-in-law to Drexler, "the first thing he asked was where she had bought her skirt."
Coulter said Drexler's problem at Gap was that it had outgrown his hands-on approach to management. "That style did not work in a chain with thousands of stores," he said. "But it is perfect for us. J.Crew has about 160 stores." Early signs suggest that Drexler hasn't lost his touch: J.Crew's same-store sales rose 16 percent last year.
Executives who rebound well are generally pragmatists, said Gerald Roche, the senior chairman of Heidrick & Struggles, an executive search firm. Who finds new jobs fastest? "People who are realistic and whose egos are not out of sight," he said.
Who has the hardest time recovering? People who take it personally when they are fired, said Graef Crystal, a compensation consultant. "They are afraid that people will see them as damaged goods, regardless of the merits," he said. "So they want to take all the severance they can get, on the assumption that their career is over and they are not going anywhere. Mostly they take the US$30 million or US$40 million and the next thing: they are appearing almost daily on your favorite local golf course."
Ward agreed. "A lot of people, when they are fired, have the reaction of hiding," he said. "They stay away from the press and contacts. The ones that do well are persistent at using their networks and seeing that their side of the story is out."
Few have done better at that than Martha Stewart. When she was indicted last June, accused of obstruction of justice, she used her Web site to tell her side of the story and to elicit support. And in the months before she began her five-month prison term last October, she met with Mark Burnett, the producer of the show The Apprentice. By September, Martha Stewart Living Omnimedia had struck a deal for a similar series, with her as the star. The television show will make its debut this fall.
She was helped in these endeavors by the nature of her legal trouble: it had nothing to do with her job running her company.
"Nobody ever questioned the credibility of her product or her company because her crime was not connected to it," Sonnenfeld of Yale said.
Without wealth, the challenge becomes much harder, although some professionals recover. In 1986, Ilan Reich, then a 32-year-old partner at the law firm Wachtell, Lipton, Rosen & Katz, was convicted of supplying takeover information to the investment banker Dennis Levine. Reich was disbarred and sentenced to a year and a day in prison and five years of probation.
The conviction, he said, ripped his world apart. He lost not only his job, but also many of his friends.
"So many relationships are built around business and the professional world," Reich said in a telephone interview. He had little time to mope after serving his time.
"I had a wife and three kids. I didn't want them to suffer for my mistakes. And I am an optimist. If I weren't, I wouldn't be alive today," he said.
When Reich got out of prison, he was hired as a vice president for business development by Richard Bernstein, a private investor who ran the Western Publishing Group.
"I had been on the opposite side of him in a major deal, " Reich said.
But Reich sought to return to the bar, a task that he self-consciously called "the maniacal pursuit of the unattainable." He succeeded, with the support of Robert Sweet, the federal district judge who had presided in his initial case, and joined Olshan Grundman Frome Rosenzweig & Wolosky. He was promoted to co-chief executive in 2000, but he left a year later amid a dispute with the board.
His business conflicts would continue. In 2002, a Delaware court blocked efforts by Reich and other investors to fire the founder and chief executive of SpectruMedix, and replace him with Reich. Only after the two sides settled did Reich join the company, where he is now chairman.
One who has learned plenty from failure is Isaac Mizrahi, the fashion designer. After gaining attention as the subject of a 1995 documentary, Unzipped, he built a couture business that was hailed by critics and retailers and was financed by Chanel. Sales, however, never matched the buzz, and by 1998 Chanel withdrew its support and he closed his business. He says he was hardly defeated by the turn in his fortune and simply moved on to other things, including a stint as a television talk show host on Oxygen, the cable network.
"I didn't feel like a flop," he said. "Entrepreneurship is not at the core of what I do. What I do is art."
Mizrahi's problems did not leave him under financial pressure.
"Isaac does not live large," said Marisa Gardini, his business partner. "He is not a Puff Daddy kind of guy. He didn't have overhead to worry about."
Mizrahi is nothing if not a great showman, and after the crash he remained in the public eye. He continued to design clothes for friends and celebrities. In 2000, he and Gardini, a lawyer by training, produced an off-Broadway one-man show called Les Mizrahi, starring him. That same year, Target approached him about designing a low-cost line of clothing that by several accounts is now flourishing. He also started a small couture line at Bergdorf Goodman.
"Your first chance can be luck and serving time," said Greenwald of Columbia, "but your second chance has to be based on some personal talent that separates you from the others.
"All the guys who do second acts have talent," he added. "If they don't have it, they never come back."
So as Carly Fiorina lines up her references, she might remind them to emphasize her decisiveness, doggedness and exceptional public relation skills. A little luck wouldn't hurt her comeback chances, either.
Comments will be moderated. Keep comments relevant to the article. Remarks containing abusive and obscene language, personal attacks of any kind or promotion will be removed and the user banned. Final decision will be at the discretion of the Taipei Times.