Consumers' group urges GM labels
Government agencies should demand that food manufacturers and retailers place clear labels indicating whether their products contain genetically modified (GM) ingredients, giving consumers clear information before they make a purchase decision, a consumer-advocacy group said yesterday.
"There is a vast gray area in the government's policy implementation as it only monitors labeling on packaged soy bean and corn products," Jason Lee (李鳳翱), chairman of the Consumers' Foundation (消基會), said at a press conference.
"But there's an even bigger segment -- foodstuffs sold in restaurants, bakeries and traditional markets like corn bread and corn soup -- which falls outside authorities' supervision," Lee said.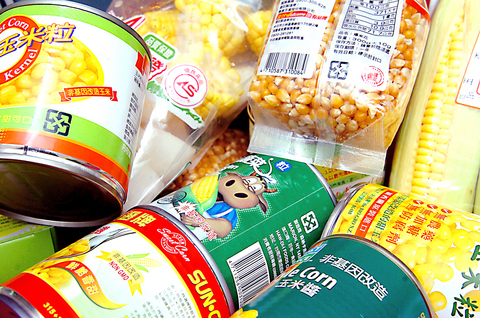 Canned or packaged food with labels indicating whether the products contain any genetically engineered ingredients are displayed at a Consumers' Foundation press conference yesterday. The foundation urged the public to pay attention to labels when shopping.
PHOTO: SUNG CHIH-HSIUNG, TAIPEI TIMES
According to statistics provided by the Council of Agriculture, Taiwan annually imports 5 million tonnes of corn and 2 million tonnes of soybeans. About 30 percent of these imports are genetically modified, and are mainly used for food processing and forage.
"Consumers have the right to know what kind of food products they are buying as there is still enormous controversy regarding the impact of GM foods on human health," he said.
The foundation also released a market survey on packaged corn products, which found that well-known brands such as Green Giant (綠巨人) and Knorr (康寶) do not provide any GM-related labeling on their packaging.
"Labeling is very easy. We urge manufacturers to just display `genetically modified' or `not genetically modified' on their products, instead of being ambiguous," Lee said.
He reiterated the foundation's call for the establishment of a comprehensive food tracing system to allow consumers to obtain detailed information about the production, processing, distribution and retail process of foodstuffs.
Lee's appeal came after a news report raised concerns over the health effects of consuming GM food.
The UK newspaper the Independent on Sunday reported that research carried out by GM food giant Monsanto showed that "rats fed the modified corn had smaller kidneys and variations in the composition of their blood," the report said.
"According to the confidential 1,139-page report, these health problems were absent from another batch of rodents fed non-GM food as part of the research project," the newspaper said.
The newspaper said that the effects seen on the animals have intensified the row as to whether GM food is safe to eat without further research.
The study concerned a strain of corn called MON 863.
Monsanto refused to provide full details of its research, citing confidentiality, according to the paper.
Also see story:
Comments will be moderated. Keep comments relevant to the article. Remarks containing abusive and obscene language, personal attacks of any kind or promotion will be removed and the user banned. Final decision will be at the discretion of the Taipei Times.