'Mystery shoppers' act as shoppers' secret agents
These strange but dedicated people can arrive at any shop or department store in the US at any time -- usually armed with nothing more than a thermometer and a portable scale -- to evaluate the businesses anonymously, gauging how well they serve their customers
Lillian had already put in a full day's work at a cable company when she hit the streets of Manhattan on a cold January night, heading out on her second job.
Armed with a thermometer and a portable scale, she went to a branch of a well-known coffee chain, not for a caffeine jolt, but for a shopping version of a sneak attack.
Lillian, 29, is a "mystery shopper," hired to evaluate businesses anonymously, gauging how well they serve customers. So seriously does she take her job that she would comment only if her surname and the name of the business she was scrutinizing were not used.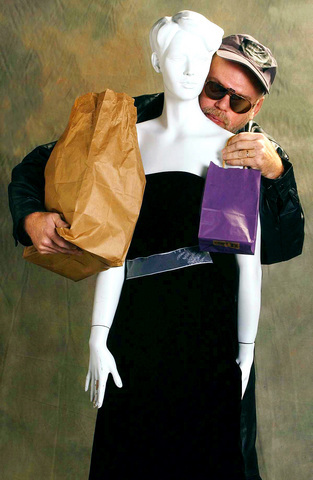 Mystery shopper Chip Cronham has spent the past 10 years traveling the US to ``shop'' for anything that is sold -- from stores and restaurants to million-dollar homes.
PHOTO: NY TIMES
Although mystery shoppers -- also called secret shoppers -- have been around for decades, the business has grown rapidly in recent years. According to the Mystery Shopping Providers Association, a trade group, nearly 700 companies now provide the service.
While mystery shopping is usually a part-time job or hobby, most participants take it very seriously.
"You really have to invest a little bit of time," said Cliff Fill, a headhunter who lives in Marietta, Georgia, and has been a secret shopper for seven years. Fill, 54, said he got into the business because he thought it would make a difference in the way consumers are treated, and he could also take advantage of free meals or entertainment.
"I get to go to some restaurants I wouldn't get to go to, see some movies I don't have to pay for, and it gives me a little extra pocket change," he said.
Shoppers who approach the work as a full-time job say they can make US$2,000 to US$3,000 a month, usually earning US$7 to US$30 a visit, in addition to a stipend to cover purchases.
"You don't get rich as a mystery shopper," said Cathy Stucker, who has written a book on mystery shopping and has a free e-mail course at www.idealady.com.
In recent months, some online marketers have preyed on people interested in secret shopping, appearing to offer money to shop when they are really just trying to sell them goods and services. Stucker and others in the field say there is no reason to pay to become a mystery shopper or to get lists of companies seeking shoppers because the names of many reputable businesses are available on the Internet. One place to find legitimate opportunities is the Web site of the Mystery Shopping Providers Association at www.mysteryshop.org.
Most "shops," as assignments are called, involve rather routine excursions to fast-food restaurants, gas stations, banks or department stores. But in recent years, they have grown to include renting apartments, going to home sales and visiting health care clinics. Stucker said that on one assignment, she was sent to evaluate a hypnotist.
Shoppers are given a list of criteria to check and may even be directed to seek out certain employees or ask specific questions. Once the assignment is completed, they must fill out a form -- from two to more than 20 pages long -- detailing the experience.
It's not uncommon for the shoppers to carry stopwatches so they can be specific about, say, how long it takes to be waited on. Some shoppers use hidden tape recorders to help them remember specific points.
Fill remembered visiting a fast-food restaurant where the two young women working at the counter ignored him while they discussed their weekend dating plans. After a minute and a half, they finally took note of him. "They said, `We'll be done with our conversation in a minute and be with you,'" he said.
While it's difficult to remain unperturbed, he said mystery shoppers should never reveal their mission. "That's one of the cardinal sins," he said. "The good thing is you know you'll probably have a bigger effect by turning in a report than you would ever have saying anything to them."
Matt Robinson instituted a mystery shopper program at AT&T Wireless, which was acquired last year by Cingular Wireless, where he worked until recently as a national sales performance manager. The program is used to evaluate the company's retail stores, and he said negative feedback from shoppers could have serious consequences, particularly for managers, who might be fired if problems were repeatedly found. While most assignments go fairly smoothly, he said, there are exceptions. He told of a recent case in which a mystery shopper was sent to one of the company's stores and was not helped for 30 minutes while the staff sat on the counters and talked about motorcycles.
"That's when a store gets a zero," he said, "and the proverbial bullets start to fly."
Robinson said the company spent about US$1.5 million a year to ensure that its 2,700 retail locations were monitored each month.
Since being interviewed, Robinson has left Cingular. Mark Siegel, a company spokesman, said Robinson was not authorized to speak for the company, but declined to comment further.
Jeff Hall, president of the mystery shoppers' association and owner of Second to None, a business in Ann Arbor, Michigan, that provides mystery shoppers and survey analysis, estimated that mystery shopping has grown 40 percent in 40 years, with significant growth in the last five years.
Hall once worked in a restaurant that was visited by a mystery shopper. He learned of the visit when the results were returned to the restaurant and became fascinated by the process. He started Second to None 16 years ago, and he estimates that its business will double this year from last year.
Among the national retailers that are said by mystery-shopper companies to use their services are Wal-Mart, McDonald's, Starbucks, Blockbuster, Jiffy Lube, PF Chang's restaurants, Nordstrom and Whole Food Markets.
Hall said that of the 200,000 shoppers in his company's database, about 70 percent were women. Most have at least a bachelor's degree. Steven Maskell, director of sales and marketing for Shop'n Chek, in Atlanta, one of the oldest companies in the field, said shoppers in his database held more than 300 different job titles, including actor, nurse and police officer. The company has about 140,000 shoppers in the US and 60,000 more abroad.
"I've been doing this nine years, and I'm always surprised at why people do it," Maskell said. "It's not for the money. It's for the fun of it. They like being a spy, and they love to see an improvement in customer service in their neighborhood."
And there are perks to be had. Maskell tells of a "curb to curb" evaluation he did for British Airways: A first-class flight to London, where he stayed two days, all expenses paid.
Volition.com, a Web site about getting "free stuff," has become the de facto water cooler for shoppers who want to compare notes. Its electronic bulletin board includes discussions on topics like how mystery shoppers prepare for their work and what would be a dream assignment.
Recently, Lillian said, she has concentrated on shops in the same chain -- she visited 50 in one month -- and now has a routine for her visits.
Scanning the shelves and seating area as she enters, she moves quickly to the bathroom to check for cleanliness and supplies, then heads to the counter to order a coffee drink, which will never pass her lips. Instead, she whisks it away to a neighboring store, where she measures the temperature with a thermometer. She takes the portable scale from her handbag and weighs the drink to make sure that it was filled to the company's standard. Then she deposits the drink in a trash can.
Comments will be moderated. Keep comments relevant to the article. Remarks containing abusive and obscene language, personal attacks of any kind or promotion will be removed and the user banned. Final decision will be at the discretion of the Taipei Times.