Asian stock markets post modest technical bounce
ON THE REBOUND The fact that investors resisted taking profits after Thursday's losses was taken as a sign of confidence that Asian markets could strengthen further
Asian stocks steadied on Friday after very sharp losses on Thursday, posting a modest technical bounce supported by a firmer Wall Street and a fall in near-record oil prices, dealers said.
They said it was positive that the markets managed to hold their ground as following recent gains there were profits to be taken, suggesting that investors remained confident of more upside to come.
This was doubly significant given the fresh anxiety over the dollar created by the massive US current account and budget deficits, and over whether the region would remain a buyer of dollar assets, which has helped to cover the US shortfall so far.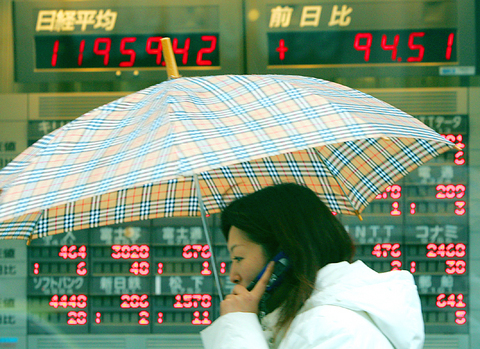 A woman walks past a digital stock indicator while talking on her mobile phone in Tokyo on Friday. Japanese stocks rose Friday on gains by technology and banking issues. The NIKKEI Stock Average of 225 issues closed at 11,923.89 points on the Tokyo Stock Exchange, up 58.98 points, or 0.50 percent.
PHOTO: AP
Concerns on that point were in part to blame for Thursday's losses and so investors may also have welcomed the relative quiet on the forex markets on Friday.
There were few real features on the day but Seoul outperformed with a gain of 2.42 percent led by Samsung Electronics after US chip giant Intel Corp raised its sales guidance.
Taiwanese share prices closed 0.19 percent higher on a modest technical rebound but gains were limited by continued concerns that China's planned "anti-secession" law will spark a further deterioration in cross-strait relations, dealers said.
They said investors were clearly waiting to see how the law plays out, with large demonstrations against it planned in Taiwan, and the selling pressure was not too heavy on the day.
The TAIEX closed up 11.70 points at 6,204.23, after trading between 6,194.14 and 6,238.43, on turnover of NT$80.23 billion (US$2.6 billion).
Japanese share prices closed 0.50 percent higher, led by hi-techs after Intel upgraded its earnings forecast, dealers said.
They said higher prices reflected rising expectations that the recession-bound domestic economy was poised to begin growing again soon.
The Tokyo Stock Exchange's benchmark NIKKEI-225 index rose 58.98 points to 11,923.89. The blue chip index rose 0.4 percent for the week.
The broader TOPIX index of all First Section shares gained 4.57 points or 0.38 percent to 1,200.00. It rose 0.7 percent for the week.
South Korean share prices closed sharply higher, bouncing back with a 2.4 percent gain back above the key 1,000 points level led by Samsung Electronics and other blue-chips after the expiry of futures and options contracts Thursday, dealers said.
The KOSPI index closed up 24.13 points at 1,022.79, the best level for the day.
Hong Kong share prices closed 0.25 percent higher led by China Mobile after the company announced stronger than expected results for 2004, dealers said.
The benchmark Hang Seng Index closed up 34.91 points at 13,890.93. The Hang Seng China Enterprises Index was down 53.55 points or 1.06 percent at 5,004.24.
Chinese share prices closed 0.29 percent higher, steadying after sharp losses Thursday but with no sign investors were ready to push stocks ahead in the absence of a convincing lead, dealers said.
The Shanghai A-share Index added 3.89 points to 1,353.69, while the Shenzhen A-share Index was up 1.77 points or 0.53 percent at 337.28.
The benchmark Shanghai Composite Index, which covers both A- and B-shares, added 3.71 points or 0.29 percent at 1,289.94.
Australian share prices closed 0.28 percent lower as weakness in the resources sector weighed on the market, dealers said.
The benchmark SP/ASX 200 closed down 11.7 points at 4,203.8, while the broader All Ordinaries index fell 6.6 points to 4,192.6.
Comments will be moderated. Keep comments relevant to the article. Remarks containing abusive and obscene language, personal attacks of any kind or promotion will be removed and the user banned. Final decision will be at the discretion of the Taipei Times.