IBM Taiwan downplays concerns over effect of Lenovo deal
IBM Taiwan yesterday said the new joint venture between IBM's PC business unit and Lenovo Group (聯想) will continue outsourcing to Taiwanese suppliers, despite market speculation that the merger with a Chinese company could pose a negative inflence on IBM Taiwan's business with the government. \n \nLenovo is China's largest personal computer (PC) maker. Taiwan and China separated in 1949 in a civil war, and Taiwan government carefully watches domestic business activities where Chinese capital is involved. \n"We do sense some psychological influence on some government officials after the deal [was closed in December last year]," said Jason Hsu (許朱勝), general manager of IBM Taiwan. \nHe declined to estimate the potential impact on the company's government procurement business. \n"We would like to urge the government to evaluate the event from an economic perspective," Hsu said. \nThe new joint venture between IBM's PC unit and Lenovo is expected to continue outsourcing to Taiwanese suppliers, Hsu said. \n"If our sales in Taiwan rise, it will help increase our purchases here, which would in turn benefit local manufacturers," he said. \nIBM, the fifth largest foreign buyer of the nation's information technology goods, and Lenovo, which is ranked sixth, purchased around US$3 billion and US$1.6 billion-worth of PCs in Taiwan respectively last year, according to figures from the Ministry of Economic Affairs. \nLenovo plans to increase its purchasing in Taiwan to over US$5 billion after it completes the merger deal in June, a Chinese-language press report cited Lenovo's Taiwan chief Lu Chien-chun (盧建軍) as saying last month. \nLenovo announced in December that it would spend US$1.75 billion to buy IBM's PC unit. The move shook up the global PC segment, making the company the world's third largest PC maker. \nThe US government, however, has launched an investigation into the deal, citing national security concerns, casting some uncertainty over whether the transaction will be completed. \n"We do not think the investigation will change the deal...as PC products are actually not that high-tech now," Hsu said. \nThe new joint venture's Taiwan branch will be established as scheduled by the second quarter, and will take over around 40 employees from IBM Taiwan's PC unit, Hsu said. Hsu denied any workers will be let go after the two parties close the deal. \nLooking ahead, IBM Taiwan appears to be conservative about the nation's IT market this year, citing slowing growth. \nTaiwan's IT spending is expected to increase by a marginal 2.2 percent to US$5.9 billion this year from last year's US$5.7 billion, marking 3.6 percent growth compared with 2003. \nThe company expects potential merger deals in industries such as finance and banking, IT, electronic products retailing and airlines to boost demand for its IT system integration business, Hsu said.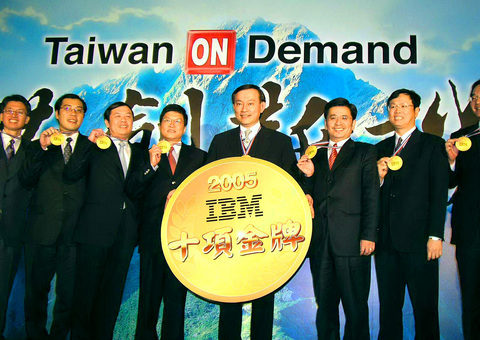 The general manager of IBM Taiwan, Jason Hsu, third right, poses for the press during a New Year press conference yesterday. Laurence Hwang, second left, formerly head of IBM's personal computer division and soon-to-be CEO of Lenovo's branch office in Taiwan, also attended the event.
PHOTO: WANG PEI-HUA, TAIPEI TIMES
Comments will be moderated. Keep comments relevant to the article. Remarks containing abusive and obscene language, personal attacks of any kind or promotion will be removed and the user banned. Final decision will be at the discretion of the Taipei Times.