WeGo Taipei's Hsu is aiming to go far
FUN AND FANTASY Timothy Hsu is setting the standard for a new type of motel -- one with lavishly decorated rooms featuring jacuzzis, DVDs and a variety of condoms
In the West, motels and motor inns are functional, cheap places located by the side of roads. \nIn populous Taiwan, motor hotels have more to offer -- they are also a convenient and safe place for privacy-conscious people who want a couple of hours of intimacy, although that side of the industry creates a negative image for some people. \nNo more. \nSome motels have been designed with flamboyant and luxurious decors and their owners hope to subvert the established idea of what a motel should look like. \nThe leading player in this effort to shake up the industry is WeGo Motel (薇閣旅館), which first appeared in Taoyuan more than four years ago. The media began paying attention after it opened its second outlet in Taipei in early 2002 and the motels have had extensive media coverage ever since. \nLong lines of luxury sedans with black-tinted windows waiting to enter the motel have become a common sight on Valentine's Day and other special holidays. \n"We want to make it an interesting place, rather than just a plain room that customers rent to stay overnight," said Timothy Hsu (許調謀), president of the self-proclaimed "five-star" WeGo. \nWeGo Taipei broke with tradition by constructing an 87-room facility on a 3,000 ping (9,900m2) plot of land when it could have built 600 rooms. \nThe motel's 87 rooms were then decorated based on six themes -- tropical recreation, luxury fashion, oriental style, modernism, theme style and visual arts, Hsu said. \nA total of 32 different styles have been created -- which means customers would have to stay 32 times to see each one. \nHsu said that with a total investment of NT$430 million (US$12.7 million), WeGo Taipei places a great deal of attention on the entertainment features in each room, with karaoke and a DVD player, a second TV by the jacuzzi and 40 different stage lamps installed to create a special atmosphere. \n"We even provide different kinds of condoms and lubricants by the bed," said the 45-year-old Hsu, who began his career in real estate some 20 years ago in Taoyuan. \n"The spirit of the service sector is to help resolve problems for customers," Hsu said. \nThe customer-oriented strategy might sound like a cliche, but apparently Hsu and his management team have a deep understanding of how to meet clients' demands and even try to anticipate their customers' wants. \nThe motel's marketing strategy and merchandise planning have already born fruit, as its annual revenues topped NT$100 million and the original plan of breaking even within five years will be reached ahead of schedule, Hsu said. \nHsu proudly noted that due to the motel's product positioning -- "designed for couples in love" -- WeGo is rarely affected by outside forces and maintained a high occupancy rate even during the SARS crisis last year. \nAccording to the Tourism Bureau, the occupancy rate for the nation's 86 international and local tourist hotels was 67.66 percent in August. Last year the rate nosedived to 22 percent in May -- due to the SARS epidemic -- before bouncing to 68.02 percent in August. \nHsu said WeGo's customer base is people aged between 25 and 40. He said the motel places a high priority on "sumptuousness and fashion," which helps differentiate it from its competitors and secure customer loyalty. \n"Service operators have a big misunderstanding. They think the 40-to-50 year-old age group, with its a solid economic foundation, usually spends the most," Hsu said. \n"But they are wrong. Middle-aged people are generally more reluctant to spoil themselves because they were brought up amid poverty." \n"So we make everything here new, fascinating, and full of fun to entice young people -- the heavy credit-card users who dare spend money enjoying life," he said. \nOne of the achievements Hsu is most proud of is changing the stereotyped image of motels as seedy places for affairs. \n"With our decor and quality service, we see couples coming to celebrate their anniversary or birthdays," he said, "People no longer have to creep in." \nStill, given WeGo Taipei's location in the city's old "Combat Zone" area, with its plethora of nightclubs and bars, it also relies on men who finish drinking at 2am or 3am and arrive with a bar girl on their arm. \nWeGo's success has attracted imitators. Several luxurious, villa-style motels are popping up fast in Taichung's new phase-7 zoning area (七期重劃區), taking advantage of the cheaper cost of land in the area compared to Taipei. \nO'Well Motel (歐薇汽車旅館), for example opened for business at the end of last year in Taichung. Its 60-ping rooms boast exclusive garden pools, jacuzzis and private eleva-tors. Its local competitors for the well-heeled consumer are Amani Motel (亞曼尼汽車旅館), Hu Shui An Motel (湖水岸汽車旅館) and Four Seasons Motel (四季汽車旅館). \nWhile the cost of an 12-hour overnight stay averages NT$3,500 no matter where you go, these Tai-chung players charge only one-third of what WeGo costs for a three-hour period. \nHsu estimated that there are around 500 motels nationwide and about 100 firms are applying for licenses to build new ones. \n"I think the market will soon reach saturation point and even go downhill in two years when supply surpasses demand," he said. \nLiu Jui-tsung (劉瑞木叢), director general of the Taichung Hotel Association (台中市旅館公會) disagrees. \nHe said that stiffer competition will eliminate old-styled motels and allow better performers to survive, just like mom-and-pop stores started to disappear after 24-hour convenience stores were introduced to this country. \n"They have to change their furnishings and offer new services to tap into the growing recreation industry now that more people have two days off per week," Liu said. \nHe said traditional tourist or business hotels don't have much to fear from the new motels, because their client bases rarely overlap. \nHowever, small hotels or motels will see their revenues erode as those wanting a two- or three-hour break will turn to luxurious motels, Liu said. \nMeanwhile, Hsu has set his eyes on the third project in Taipei City's Dazhi district. \nTo meet to the city government's development regulations for that area, Hsu plans to invest NT$1.4 billion in building a hotel complex, with half the space set aside for seven big ballrooms for banquets and weddings. The project is slated to be completed by the end of next year, he said. \n"We'll have churches inside because many young people dream of walking down the aisle even though they're not Christians. Weddings will become so much fun and more meaningful, not just having dinner with relatives," Hsu said, waving his arms as he described the scene. \nFrom motels to ballrooms -- Hsu likes combining interesting elements to create something new. \n"I just want to be different," he said.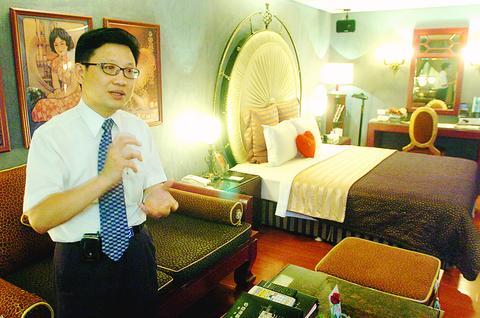 Timothy Hsu, owner of WeGo Taipei, says there is a niche for luxuriously decorated motels catering to well-heeled people aged 25 to 40, especially couples looking to celebrate their anniversarys or birthdays. He says the motel's emphasis on decor and service makes it stand out from the usual seedy motel offering three-hour breaks.
PHOTO: SEAN CHAO, TAIPEI TIMES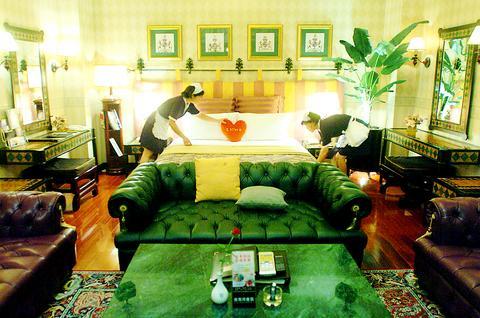 Housekeepers make the bed in one of the rooms at WeGo Taipei.
PHOTO: SEAN CHAO, TAIPEI TIMES
Comments will be moderated. Keep comments relevant to the article. Remarks containing abusive and obscene language, personal attacks of any kind or promotion will be removed and the user banned. Final decision will be at the discretion of the Taipei Times.