Losses subdue Asian share markets
TENTATIVE Taiwanese stocks closed 0.18 percent lower as modest bargain hunting pared early declines after heavy losses overnight on Wall Street, dealers said
Asian share markets closed narrowly mixed on Friday, with concerns over record oil prices and a sharp fall mid-week in base metals prices keeping investors cautious and largely quiet ahead of the weekend, dealers said. \nA weaker Wall Street overnight added to the tentative tone. \nThey said that after the very sharp losses on Thursday following the sell-off in the London and New York base metals markets, Friday was more subdued as investors tried to work out just what that development means. \nThe initial conclusion was that it was a technical downturn, with speculative funds happy to take profits after some metals hit multi-year highs, leaving underlying strong demand, especially in China, intact. \nTaiwanese share prices closed 0.18 percent lower as modest bargain hunting pared early declines after heavy losses overnight on Wall Street amid continuing concerns over record oil prices, dealers said. \nAn earthquake measuring 7.0 on the Richter scale hit northeastern Taiwan at noon to trigger a sell-off, but it did not last long as news emerged that it had caused little or no damage, they said. \nThe TAIEX closed down 10.25 points at 5,820.82, off a low of 5,782.02 and a high of 5,863.91, on turnover of NT$73.49 billion (US$2.17 billion). Decliners led risers 374 to 275, with 149 stocks unchanged. \nWhile some bargain hunting supported the downside, there was also an apparent reluctance to push the upside aggressively, dealers said. \nIt is obvious the market will not be able to stage a decisive upswing while Wall Street remains unsettled and with oil prices showing no signs of softening, they said. \nJapanese share prices closed 0.47 percent lower on concerns about record crude oil prices and the outlook for the Chinese economy following reports of sharply reduced demand for base metals, dealers said. \nThe Tokyo Stock Exchange's benchmark NIKKEI-225 index lost 51.34 points to 10,982.95, closing below the 11,000 level for the first time in two weeks. \nThe broader TOPIX index of all First Section shares fell 4.25 points or 0.38 percent to 1,105.39. \nSouth Korean share prices closed 0.55 percent lower after Samsung Electronics reported weaker-than-expected quarterly results and foreign investors sold down their holdings in equities, dealers said. \nThe composite index closed down 4.69 points at 841.94, off a high of 849.92 and a low of 833.45. Volume was 283 million shares worth 2.3 trillion won (US$2.0 billion). Falls led gains 469 to 254, with 77 stocks unchanged. \nHong Kong share prices closed 0.18 percent higher on bargain-hunting following falls over the last three sessions, with large cap stocks traded actively, dealers said. \nThe Hang Seng index closed up 24.05 points or 0.18 percent at 13,059.43, off a low of 13,012.84. Turnover was HK$13.08 billion (US$1.7 billion). \nChinese share prices closed 0.18 percent lower as petrochemical producers struggled on rising oil prices while metal firms were hit by concerns over falling commodity prices, dealers said. The Shanghai A-share Index fell 2.55 points to 1,395.87 on turnover of 8.89 billion yuan (US$1.07 billion) while the Shenzhen A-share Index was down 1.77 points or 0.50 percent at 353.83 on turnover of 6.69 billion yuan. \nThe benchmark Shanghai Composite Index, which covers both A- and B-shares, lost 2.42 points or 0.18 percent at 1,330.52 on turnover of 8.96 billion yuan. \nAustralian share prices closed 0.32 percent higher as resources recovered from an over-reaction to this week's fall in base metal prices, dealers said. \nThe benchmark SP/ASX 200 index closed up 12.0 points at 3,720.9, while the broader All Ordinaries added 10.8 points at 3,730.7, a record high for the index. \nSingapore share prices closed 0.57 percent higher on bargain-hunting following recent sharp declines but trade remained subdued on concerns over persistently high oil prices, dealers said. \nThe Straits Times Index rose 11.07 points to 1,962.54, while the broader All Singapore Equities index gained 2.49 points to 512.37.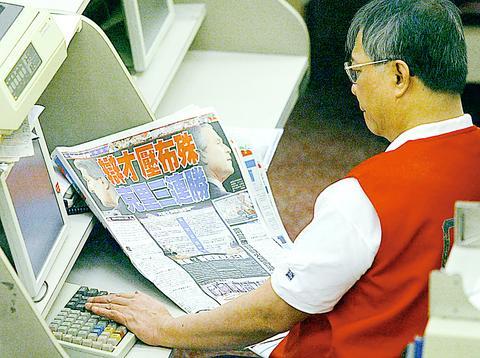 A trader at the Hong Kong Stock Exchange takes a look at a newspaper report on Friday about the presidential debate between US President George W. Bush and Senator John Kerry. The Hang Seng index closed 24.05 points higher at 13,059.43 on Friday.
PHOTO: AFP
Comments will be moderated. Keep comments relevant to the article. Remarks containing abusive and obscene language, personal attacks of any kind or promotion will be removed and the user banned. Final decision will be at the discretion of the Taipei Times.