Greenspan upbeat on oil spike
QUALIFIED OPTIMISM The Fed chairman said the US economy should be able to withstand the recent hikes, although market volatility might continue for years
The world will be living with volatile oil prices for years to come, but this year's price spike should not be serious enough to push the country into a recession, Federal Reserve Chairman Alan Greenspan said on Friday. \nGreenspan gave a generally upbeat assessment of the economy's ability to withstand the spike in oil prices of recent months, saying that he did not believe the country will see a replay of the oil shocks of the 1970s and early 1980s that triggered a series of recessions. But he added some major qualifiers. \n"We and the rest of the world doubtless will have to live with the uncertainties of the oil markets for some time to come," he said in a speech to an Italian-American group. \nGreenspan also said his forecast of a milder economic impact from the current price spike depended on oil prices not rising significantly higher than they already have. \n"Obviously, the risk of more serious negative consequences would intensify if oil prices were to move materially higher," Greenspan said. \nThe Fed chairman spoke on a day when crude oil prices climbed further into record territory, with the price in New York trading hitting US$54.93, up US$0.17 from Thursday's record close. \nGreenspan said that even at current levels, crude oil prices are still about 40 percent below the all-time highs -- in inflation-adjusted terms -- of February 1981. \n"The impact of the current surge in oil prices, though noticeable, is likely to prove less consequential to economic growth and inflation than in the 1970s," Greenspan said. \nHis comments had a soothing impact on Wall Street, giving a boost to stock prices that had suffered a 153-point drop over the previous two days as investors faced new supply worries due to threats to production in the Middle East and other key oil producing countries. The Dow Jones industrial average rose 38.93 points on Friday to close at 9,933.38. \nGreenspan predicted the global economy will adjust to the recent surge in prices by boosting energy exploration and production and by increasing fuel efficiency. \nHe said this year's rise in oil prices, which currently stand 80 percent higher than 12 months ago, had the effect of imposing a tax on US consumers equivalent to 0.75 percent of the country's total economic output, or about US$80 billion. \nThat was a smaller dampening effect than the oil crises of the 1970s and early 1980s, he said, which were severe enough to send the country into a number of recessions. \n"Greenspan is saying that the increase in energy prices is a minor, not a major, problem," said David Wyss, chief economist at Standard & Poor's in New York. "But nobody knows for sure because nobody knows what is going to happen in the Middle East." \nWyss said he believes oil price increases that have already occurred will trim about 1 percentage point from economic growth next year. He is forecasting the gross domestic product will expand by just 3.5 percent next year, compared with estimates by many analysts of 4 percent-plus GDP growth this year. \nGreenspan several months ago said the jump in oil prices had helped push the country into a "soft patch" of sharply slower economic growth as consumers cut back drastically on their spending. However, last month Greenspan said he believed the economy has "regained some traction."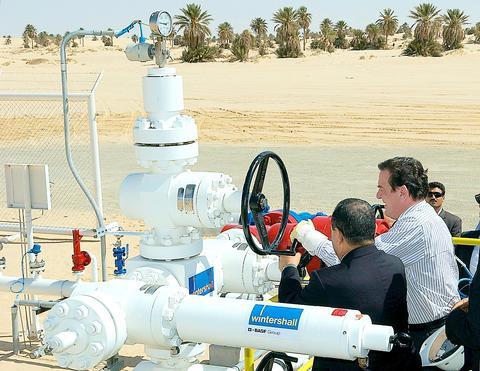 German Chancellor Gerhard Schroeder, right, and Libyan Prime Minister Shukri Mohammed Ghanem inaugurate a new oil rig of the German company Wintershall, a subsidiary of BASF, in Libya on Friday. Crude oil futures hit US$54.93 in New York trading on Friday.
PHOTO: EPA
Comments will be moderated. Keep comments relevant to the article. Remarks containing abusive and obscene language, personal attacks of any kind or promotion will be removed and the user banned. Final decision will be at the discretion of the Taipei Times.