AUO says panel demand to rise
IMPROVED OUTLOOK The manufacturer said demand should improve in the fourth quarter on Christmas buying and reduced inventories at computer vendors
Prices of liquid-crystal displays (LCDs) have fallen to their lowest level since 2001 but the fourth quarter outlook will improve amid rising demand, according to AU Optronics Corp (友達光電), the world's third largest flat-panel maker after Samsung Electronics Co and LG Philips LCD Co of South Korea. \n"As personal computer vendors like Dell Inc have begun to boost sales in LCD monitors, we believe the demand [for flat-panel displays] is recovering," AU Optronics chairman Lee Kun-yao (李焜耀) told reporters on the sidelines of a company event on Saturday in Taichung. \nThanks to recent price declines, the LCD industry has seen a substantial inventory reduction in channel outlets and is preparing for the Christmas season. Therefore, Lee predicted a stronger shipment figure for September than the previous month. \nLee didn't disclose any figures, but analysts have forecast shipments to grow to some 1.5 million large-size flat-panel displays, up from 1.28 million units in August. \nPrices of computer monitor screens have tumbled by a third since June after inventories of the displays piled up, Merrill Lynch analysts Jeffrey Su and Daniel Kim said in a Sept. 21 report. But prices are expected to stabilize on improving demand, smaller rivals like Chunghwa Picture Tubes Ltd (中華映管) and Quanta Display Inc (廣輝電子) said last month. \nPrices to stabilize \n"Owing to inventory recovering to a healthy level, LCD prices could stabilize in September and October," said James Wu (巫俊毅), chief financial officer of Chunghwa Picture, Taiwan's third-largest maker of LCDs used in televisions and computers. \n"Clients have been keen to source notebook-computer panels from Chunghwa Picture starting from the second half this year." \nAnalysts expect Chunghwa Picture's shipment to recover to 870,000 displays last month. \nQuanta Display also expected prices to hit the bottom this month, said vice president Tsai Chuan-chuan (蔡娟娟) in mid-September. \n"We believe seasonal demand for the Christmas shopping spree will arrive to bolster falling panel prices," Tsai said. \nQuanta Display, an LCD manufacturing arm of Quanta Computer Inc (廣達電腦), reports around 60 percent of its total LCD panels go to notebook computer manufacturers, with 40 percent going to LCD monitor makers. \n"Prices for LCD panels used in laptop computers will have a better chance of stabilizing, compared to LCD monitors," Tsai said. "Therefore, our fourth quarter sales are expected to exceed that of third quarter." \nAU Optronics president Chen Hsuen-bin (陳炫彬) said last week that prices are falling "unreasonably" because rivals are adding to the overcapacity. \nHe made the remark in regard to news reports that LCD makers such as LG Philips have cut prices of computer monitor screens below the cost of production. \nNext generation plants \nLG Philips has started production at a new so-called sixth-generation factory in South Korea that is making screens for computer monitors instead of TVs, as was originally intended, because demand for flat-panel TVs has failed to meet expectations, Chen said. \nWhile LCD monitor demand has showed a strong pickup, Chen remained cautious about the industry's outlook. \n"Against the expectation of a demand pickup in the run-up to the Christmas holiday season it remains to be seen how this will be impacted by crude oil prices moving up to record levels," he said on the sidelines of a ceremony marking the joint donation of a building by his company and BenQ Corp (明基電通) to National Taiwan University. \nLast month, both AU Optronics and Chi Mei Optoelectronics Corp (奇美電子) said they're considering deferring construction of factories for next-generation products due to sluggish demand. \nAU Optronics was originally scheduled to set up an advanced 7th-generation (7G), or 7.5-generation (7.5G), factory in Taichung, central Taiwan, in 2006, while Chi Mei Optoelectronics decided to temporarily halt the construction of a 7.5G plant in Tainan. \nA 7G, or 7.5G, plant is designed to cut LCD substrates mainly for 40-inch or larger flat-screen televisions. \nChunghwa Picture, however, said it's going ahead with expansion plans. The company will move in production equipment at a new 4.5-generation (4.5G) factory starting this month or next month, Wu said. Such factories make screens for notebook computers and computer monitors. \nThe company will open its first 6th-generation (6G) plant in the second-quarter next year. Sixth generation plants can make television screens measuring 32-inches diagonally and larger. \nColor filters \nChunghwa Picture is also opening plants to supply components used in flat-panel displays. The company has started production of a color-filter plant for its 4.5G screens. The plant will reach full production of 160,000 units per month by the middle of next year. \nThe company is building another plant to make color filters for its 6G screens. The facility is scheduled to reach full capacity of 45,000 units by the fourth quarter of next year.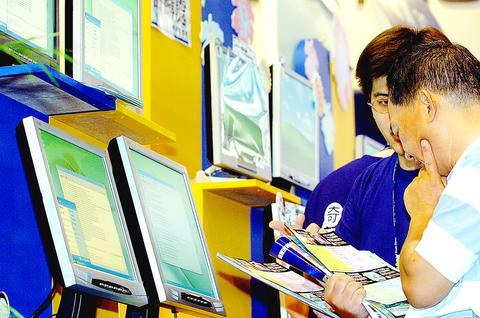 A Chi Mei Optoelectronics Corp salesperson details the company's latest LCD monitors to a visitor during the Taipei Computer Applications Show in late July. Prices of LCD computer monitor screens have tumbled by a third since June after inventories of the displays piled up, Merrill Lynch said in a report last month, but manufacturers now say they expect demand to pick up in the fourth quarter.
PHOTO: SEAN CHAO, TAIPEI TIMES
Comments will be moderated. Keep comments relevant to the article. Remarks containing abusive and obscene language, personal attacks of any kind or promotion will be removed and the user banned. Final decision will be at the discretion of the Taipei Times.