Tsann Keun scrambles for survival
UNTIMELY RAID Wu Tsann-kuen this week hurried back to Taipei to try to disprove damaging allegations that his Tsann Kuen Enterprises Co was involved in illegal trading
To Wu Tsann-kuen (吳燦坤), founder and chairman of Taiwan's largest electronics chain store in terms of sales, the raid by investigators last week at the company's Neihu headquarters over an alleged securities fraud could hardly have come at a worse time -- when the firm is encountering difficulties with its investments in China. \nThe retailer held four press conferences in the last three days to deny its alleged unlawful selling of shares of its US unit Eupa International Inc, and the raid merely served to hurt its reputation and worry its suppliers. \nWu, who was inspecting Tsann Kuen's distribution and logistics operations in China when the company was raided, rushed back home on Saturday, hoping to control the damage. \n"[Our operations] are absolutely in accordance with the law," Wu, 53, told reporters outside the headquarters building in Neihu, Taipei. \nHe said the company obeyed the US' over-the-counter and NASDAQ regulations, which were made stricter after the eruption of the Enron scandal. \nAgain, he denied that Tsann Kuen and its affiliated companies have ever sold any Eupa shares in Taiwan and that Eupa's stocks acquired by local investors had anything to do with them. \nWu, who is scheduled to meet prosecutors today at the Taipei District Prosecutors' Office, hinted that the whole dispute could have resulted from share sales by Eupa's other shareholders. A few days ago, he was reportedly telling prosecutors that the shares in question were forgeries. \nTsann Kuen is now facing probes for illegally selling its US over-the-counter stocks, registered under the name of Eupa, to the public in Taiwan three years ago while claiming that Eupa would be upgraded to trade on the NASDAQ market. That sale, which allegedly was in violation of the Securities and Exchange Law (證券交易法), has allegedly raised around NT$100 million for the company. \nBorn in 1951 in Kaohsiung, the son of a peasant working for the state-run Taiwan Sugar Corp (台糖), Wu is a self-made businessman. He served as a procurement officer at a local steel mill between 1973 and 1974 and worked as an airline technician at Japan Asia Airways between 1974 and 1976 before founding Tsann Kuen in 1976. The company started out as a home-appliance manufacturer and branched into the retailing sector over 10 years ago. \nWu's tough characteristics, however, have earned him as much praise as criticism. To beat his rivals, he often filled the marketplace with the lowest prices, which forced others to follow suit. \nHis strong determination and firm refusal to admit defeat came from his family upbringing, as his mother told him in his childhood to fight back, instead of crying helplessly, if somebody bullied him. In addition, he was anxious to apply every new theory he learnt in class to his organization, following his earning an EMBA (executive master of business administration) degree at the National Taiwan University in 2001. \nFor instance, the company introduced a lay-off program among some of its 148 outlets in Taiwan, inspired by Microsoft Corp's policy of maintaining a manpower circulation of 5 percent in a bid to stimulate the performance of employees. \nBut such fickleness and policy flip-flops seemed to cause resentment among staffers as well as organizational instability, a Chinese-language business daily reported over the weekend. \nOn the other hand, Wu has foreseen the development of the vast Chinese market and hopes to reproduce his success in Taiwan across the Strait. \nPositioning his company as a world-leading factory and retailing channel, in April last year he established three manufacturing bases in Shanghai, Xiamen and Zhangzhou. The company received orders for home appliances to the annual value of US$600 million and made huge inroads in the Chinese electronics retail market. \nIn August, he said the company planned to open three new stores in Shanghai and increase its Chinese outlets to 70 from 51, and increase its stores in Taiwan to 160 from 148 by the end of this year. \nHowever, analysts such as Chen Yen-liang (陳彥良) at Yuanta Core Pacific Capital Management (元大京華) expressed concern about the company's loose management style in a risky expansion scheme. \n"The management of logistic systems and the cultivation of talent are issues affecting the company's ambitious and rapid expansion in China," Chen told the Taipei Times earlier this year. "It took Wu seven to eight years to break even in Taiwan, but whether his aggressive expansion in China will meet with the same type of success is yet to be seen." \nTo nobody's surprise, Tsann Kuen suffered under the high costs of managing over 40 outlets scattered throughout China. This prompted it to slow down its expansion and consolidate its stores in the Shanghai, Fujian and Xiamen areas, said company spokesman Ted Chen (陳彥君). \nThe company posted consolidated revenue of NT$24.9 billion in the first half of this year and hopes to achieve annual sales of NT$60 billion this year, he said.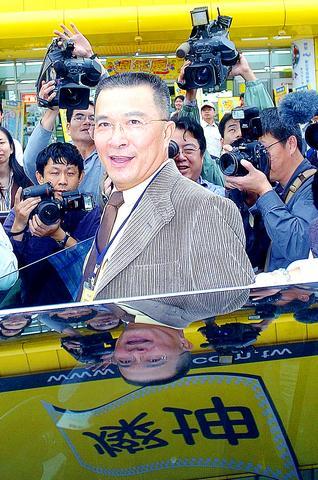 Tsann Kuen Enterprises Co Chairman Wu Tsann-kuen, center, appears yesterday in front of the company's headquarters in Neihu, Taipei to deny allegations of illegal trading in shares.
PHOTO: YEH CHIH-MING, TAIPEI TIMES
Comments will be moderated. Keep comments relevant to the article. Remarks containing abusive and obscene language, personal attacks of any kind or promotion will be removed and the user banned. Final decision will be at the discretion of the Taipei Times.