Weather a boon to AC and drink sales
COOLANTS AND SUNBLOCKS Consumers may be wilting in the heat, but many retailers are happy when the mercury rises because their sales go up as well
While most people are bemoaning the heat wave sweeping across the nation, retailers and manufacturers of cooling products are jubilant about the rise in sales that has followed the hike in temperature.
According to the Central Weather Bureau, the temperature hit a record high of 37.7?C in Taipei City yesterday.
For air-conditioner retailers, sizzling days and steamy nights are something to look forward to since they always drive up demand.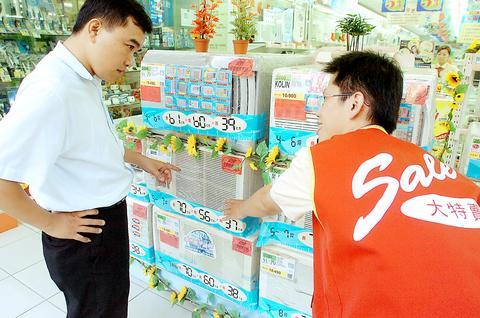 As temperatures hit record highs home appliance retailers are making a killing air conditioners and fans, attracting customers with a variety of promotions.
PHOTO: GEORGE TSORNG, TAIPEI TIMES.
"We're very happy to see that sales of air conditioners in July have rocketed up 40 percent from a year earlier," said Chang Yueh-lung (張岳龍), vice president of merchandise planning at Tsann Kuen Group (燦坤實業), the nation's largest electronics chain store with 147 outlets.
Although demand is soaring, Chang said his company is sticking to its promise to install the air conditioners the same day they are purchased.
The same happy faces can be seen on beer brewers, who have been seeing sales soar as people drink more beer to drive away the heat and humidity -- of just forget about it.
"In July alone, we have seen a 27-percent jump in our Taiwan Beer sales compared with the same period last year," said Hsu An-hsuen (徐安旋), vice president of the distribution department at Taiwan Tobacco and Liquor Corp (TTL, 台灣菸酒公司), the nation's largest brewer.
Hsu said beer sales are closely linked to weather conditions.
Windy weather and rain not only reduce temperatures but also keep most people indoors, which Hsu said causes short-term variations in beer sales.
Although the scorching hot weather arrived a bit later than last year, TTL forecasts its beer revenues will grow by 10 percent to NT$25 billion this year, Hsu said.
Soft drinks are also flying off the shelves, especially at convenience stores.
But to boost sales President Chain Store Corp (統一超商) is rolling out discounts on cold drinks in its more than 3,500 7-Eleven outlets.
Even though drinks sales increased 20 percent this month from last month, President Chain's public relations official Vivien Hsu (徐崇嵐) said her company feels the need to do more to increase sales.
"Rising temperatures cannot guarantee high sales figures. They must be accompanied by promotions to drive up demand," Hsu said.
Increasing public awareness of the need for protection against harmful ultraviolet rays and sunburns has pushed up sales of sun blocks and other skin protection products.
"When thermometers top 30?C, sales of sunscreen commodities increase 30 percent," said Elvy Chou (周立婷), public relations official of Watsons Taiwan, which has 271 outlets nationwide.
During the first three weeks of this month, Watsons registered a 15 percent increase in sales of sunscreens and sunblocks compared to last year, Chou said.
She said the company's promotional activities in this sizzling boom are paying off.
Comments will be moderated. Keep comments relevant to the article. Remarks containing abusive and obscene language, personal attacks of any kind or promotion will be removed and the user banned. Final decision will be at the discretion of the Taipei Times.