Chinese can keep their beds: Bush
ARTIFICIAL PRICES? The US administration says Chinese furniture makers are dumping products at low prices, and trade barriers must be created
The Bush administration has proposed new tariffs on wooden bedroom furniture from China as it decided that companies there are dumping beds, dressers, armoires and desks worth millions of dollars into the US at artificially low prices.
But US retailers warned that American consumers will pay higher prices for furniture as a result of the preliminary decision by the Commerce Department.
The tariffs proposed Friday ranged from 5 percent to 198 percent, and could take effect next week. China is the largest exporter of furniture to the US.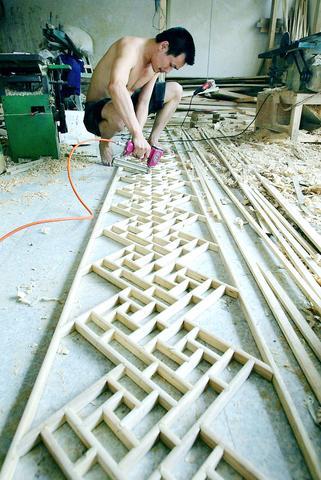 A worker assembles parts of Chinese wooden bedroom furniture for export, at a workshop in Beijing, Friday. The US made a preliminary decision yesterday to impose heavy import tariffs on wooden bedroom furniture from China. US manufacturers are demanding anti-dumping measures as they claim China is undercutting them.
PHOTO: EPA
"We do not believe that a duty of any size is justified and will only hurt retailers, retail workers and consumers," said Mike Veitenheimer, vice president of Fort Worth, Texas-based The Bombay Company Inc.
"Duties are a tax that could raise prices and limit the choices for millions of people who want to buy quality, affordable bedroom furniture," said Veitenheimer, also spokesman for the Furniture Retailers of America.
Commerce Secretary Donald Evans and Labor Secretary Elaine Chao will travel to China next week for more talks aimed at boosting US exports and narrowing America's record trade deficit with China, and the furniture issue is expected to be a part of talks.
The US recorded a US$124 billion trade deficit with China last year -- an all-time high with any country.
The dumping decision and proposed tariffs are subject to further investigation, including review by US courts and the WTO. A final decision is expected by December. It is one of 17 US antidumping orders placed on Chinese products, and the largest of the 26 cases initiated by the Commerce Department, said James Jochum, assistant commerce secretary for import administration.
Trade is a hot-button issue this election year, particularly its role in the loss of American jobs overseas. The Bush administration is hoping to reduce the loss of 1.2 million jobs since US President George W. Bush took office in 2001.
John Kerry, Bush's Democratic challenger, has said that if elected president, he will fight for American workers and won't "sit idly by when China or any other country pursues policies that hurt our economy."
Furniture makers say retailers' claims of higher furniture prices are exaggerated.
"The only bedroom furniture consumers will have to pay more money for is bedroom furniture that's been illegally dumped in the United States," said Wyatt Bassett, executive vice president of Vaughan-Bassett Furniture Co in Galax, Virginia. Consumers "will have plenty of choices for legally sold and legally traded furniture."
More than two dozen American furniture manufacturers and their unions filed a petition last fall seeking the investigation. They say more than a quarter of US jobs in their industry have been lost because China has been exporting illegally government-subsidized furniture that sells for less than the cost to make it.
Americans purchased about US$4.4 billion in wooden bedroom furniture in 2002. More than half of it came from other countries, according to US International Trade Commission. China was the biggest exporter, with US$957.9 million worth of furniture. Canada was second with US$401.4 million.
Seven companies investigated by the Commerce Department account for 40 percent of bedroom furniture imports from China. They will be required to pay duties ranging from 4.9 percent to 24.3 percent.
Another 82 companies, representing another 40 percent of imports, will have to pay 10.9 percent. The remaining group, which Jochum said could number into the "thousands," must pay 198 percent. That's because those companies could not or did not provide evidence that they were not controlled by the Chinese government, he said.
In a separate case involving China, a decision on whether to impose penalty tariffs on imported shrimp is expected in a couple of weeks, Jochum said.
US shrimp producers contend that they are being driven out of business by unfair foreign competition, including from China and Vietnam.
Comments will be moderated. Keep comments relevant to the article. Remarks containing abusive and obscene language, personal attacks of any kind or promotion will be removed and the user banned. Final decision will be at the discretion of the Taipei Times.