Flat-panel TVs take center stage
ON THE BOX The nation's TV makers are producing ever-larger screens and are hoping that a fall in price will boost demand in the second half of the year
Teco Electric and Machinery Co (東元電機) and its local rivals will roll out large flat-panel televisions during the annual Computex trade show to get a foothold in the fast-growing digital TV business, a company official said yesterday. \nDuring the five-day computer trade fair, Teco, a leading liquid-crystal-display (LCD) TV brand that also manufactures for international brands, will expand into the plasma-display-panel (PDP) TV sector. \n"With orders for the new PDP model coming in, we expect 2004 shipments to add 50,000 units ... to our previous projection of 200,000 units," said Aubrey Du (杜振華), a senior director of Teco's overseas business division. \nTeco is scheduled to supply the 42-inch PDP set to unspecified European and US TV vendors starting in the third quarter, Du said. \nTeco has been focusing on LCD TVs, and in the PDP TV sector has lagged behind its local rival Sampo Corp (聲寶), which has already started to supply Gateway Inc and Thomson AG with PDP TVs. \nThe Taipei-based TV maker also will also display 46-inch LCD TVs at the show to compete with BenQ Corp (明基電通), Taiwan's leading consumer electronics maker, which will be exhibiting its first 46-inch LCD TVs. \nTeco's latest move comes after Taiwan started to test its digital broadcasting system yesterday. \nDu dismissed fears that weak demand for pricey LCD TVs in the first half would continue into the second half. \n"We expect solid demand for liquid-crystal-display TVs to surface in the second half of this year after a lukewarm first two quarters, when distributors were busy digesting inventory from last Christmas," Du said. \nTeco recently spent US$15 million on building a factory in China's Wuxi, which will produce 50,000 LCD TVs a month, compared to 30,000 units a month at the company's Taiwan plant, he said. \nGlobal shipments of LCD TVs are expected to more than double to about 10.2 million this year, of which Taiwanese companies will sell about 24 percent, or 2.4 million units, according to Taipei-based market researcher Topology Research Institute (拓墣產業研究所). \nSampo expects to ship 150,000 LCD TVs this year, according to Topology. \nDuring the computer trade show, Sampo will showcase 42-inch PDP TVs, 50-inch PDP TVs, classy "Claire" brand LCD TVs and portable DVD players. Those products are already available for local and overseas consumers. \nTatung Co (大同), a household name for home appliances in Taiwan, will showcase a wider range of digital home products including PDP and LCD TVs, tablet personal computers and videophones. \nWith consumers still unsure of expensive LCD TVs, Du said prices of LCD TVs would drop further by the end of the year in response to lower flat-panel prices. \nPrices of flat-panel displays will drop by 10 percent to 15 percent in the second half as some Taiwanese producers will lower prices on large-sized screens this month amid increased production, Bloomberg reported, citing a research report by SinoPac Securities Co (建華證券) released on Monday.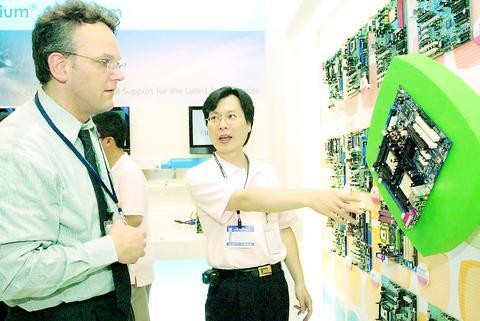 A foreign buyer inspects products displayed at Computex Taipei 2004, which opened yesterday.
PHOTO: WANG MIN-WEI, TAIPEI TIMES
Comments will be moderated. Keep comments relevant to the article. Remarks containing abusive and obscene language, personal attacks of any kind or promotion will be removed and the user banned. Final decision will be at the discretion of the Taipei Times.