Taking stock of Taiwan's markets
The government is mulling measures to allow China-based Taiwanese businesses to list on the local stock market. But some worry that any opening-up would have its downside, and may facilitate capital flight to China. However, in an interview with 'Taipei Times' staff reporter Joyce Huang last week, Sean Chen, chairman of the Taiwan Stock Exchange Corp, offered a positive outlook on the situation
Taipei Times: Lots of bankers are urging the government to allow China-based Taiwanese businesses to raise capital in the local bourse by listing on the Taiwan Stock Exchange (TAIEX). How do you think that would impact the local stock market?
Sean Chen (陳沖): First of all, there already exists a mechanism, which allows foreign multinationals, including overseas Taiwanese businesses incorporated outside Taiwan, to list on the TAIEX either as holding companies or to raise capital by means of the issuance of depository receipts. We have had a Malaysia-based Taiwanese company listed here and five issuances of depository receipts by overseas Taiwanese businesses.
The mechanism is well in place for overseas Taiwanese businesses to meet their financial needs except for China-based Taiwanese businesses. Many have argued that allowing China-based Taiwanese businesses to list on the local benchmark would foster more capital outflow [to China]. But I would argue that many TAIEX-listed overseas businesses, be it China-based or not, not only raise local capital to fund their overseas businesses, but also attract foreign capital inflow to invest in the local stock market. As long as your own capital markets are transparent and professional enough, there'll be more foreign capital flowing in.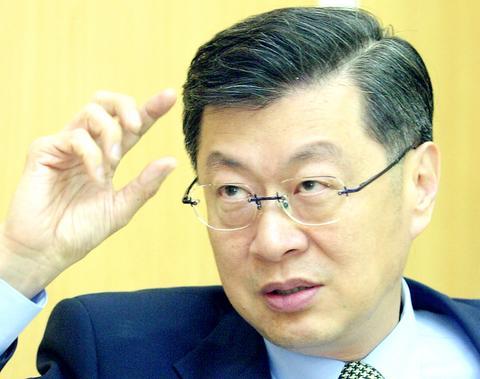 Taiwan Stock Exchange Corp chairman Sean Chen is keen to improve competition among bourses in China, Hong Kong and Taiwan.
PHOTO: GEORGE TSORNG, TAIPEI TIMES
Look at Hong Kong as an example. The securities market cap in Hong Kong is 285 percent of its GDP, which is way higher than the US and Taiwan's securities market cap. The US market cap is around 120 percent of its GDP while Taiwan's is around 95 percent. Obviously, Hong Kong, which allows foreign companies to list on its stock market, also successfully attracts foreign stock investors to invest in its internationalized market. To learn from Hong Kong's experience, we can say that an opening-up policy would benefit Taiwan with capital inflows in the long run although, in the short term, worrisome capital flights may be facilitated.
TT: You've looked at the policy positively. But still, there must be some disadvantages to the policy that are troubling the government other than fueling China-bound capital flights?
Chen: There surely are. For example, the workload on the Taiwan Stock Exchange Corp would increase. Like any foreign multinationals that are listed on the TAIEX, regulators would have difficulty monitoring management of China-based companies that are incorporated outside Taiwan.
To solve the problem, what we did in the past was to grant foreign companies that have already listed in their home stock markets entry to the TAIEX to make sure they're already qualified listed companies. So, I've proposed that China-based Taiwanese businesses, which plan on listing on the TAIEX, should become listed companies in either their home markets or Hong Kong beforehand. They should also be allowed to dual-list simultaneously in Hong Kong and Taiwan if Hong Kong is such a small market for them.
For example, China Life Insurance Co (中國人壽), dual-listed in Hong Kong and New York, believes Hong Kong is a much more transparent market with strict corporate governance principles. The purpose of dual-listing is, in a way, to dismiss part of the worries that allowing China-based companies to list on the TAIEX may do harm to the local economy.
TT: Will dual-listing burden businesses with extra costs to go on trading their shares in two markets?
Chen: Just some extra costs, but it comes with a lot of advantages. For example, the liquidity in Taiwan is far higher that in Hong Kong, whose 60 percent turnover rate is far less than Taiwan's 200 percent. Given Taiwan's vibrant secondary markets, businesses will be interested in coming in spite of the extra costs.
TT: Still, some economists suggest a higher threshold to prevent capital-strapped China-based businesses from funneling Taiwanese capital to fund their Chinese operations. They propose businesses with a minimum NT$10 billion in annual revenues, a minimum of 50 patents, or five country branches to be allowed to list on the TAIEX. Will the threshold be too strict and scare away many businesses?
Chen: The threshold hasn't been finalized. We can only say whether it is too strict or not when the government finalizes how many requirements it will impose on to-be-listed China-based companies. Before that, we can't jump to the conclusion that the threshold is reasonable enough or unreasonable at all. I personally think that any companies that have planned on listing on the TAIEX must have prepared themselves well to meet all these requirements.
The threshold, which works as a strategic gate to keep those potentially under-performing companies out, shouldn't be an issue. Besides, the Taiwan Stock Exchange Corp has the final say to businesses' applications to list here after closely reviewing their financial profiles and operational blueprints.
Whether businesses are well-established with high transparency and corporate governance standards is what we look at and then we decide whether they should be qualified to list here.
TT: What about the timing? Some argue the earlier the better, so that Taiwan can benefit from China's high economic growth by bringing China-concept shares into its capital markets. Do you agree?
Chen: Basically, I believe that the local economy has benefited from China-bound investments in the past few years.
But I have doubts over China's high economic growth since they tend to fake many figures. I would say there's still competition to think about between Taiwan's and China's capital markets, which are lagging behind.
Time is still on our side now but China may catch up, although it will be a while. China has only 11 years of experience in managing capital markets. Many companies, say 5,000 companies in Guangdong Province in China, are queuing up to get listed on Chinese capital markets, which are incapable of processing so many listing applications.
Nevertheless, experience tells us that China may open up a fast track for businesses they are interested in recruiting. That'll be the time when Taiwan should be worrying about competition from China, which may steal our potential customers.
TT: Now that you mention competition, I have heard two contradictory ideas about the policy. Some say that not too many China-based Taiwanese businesses will be interested in listing on the TAIEX since they have less problem raising capital in China now. Whereas, others say the policy will only benefit businesses that are planning to branch into China in the future. Which is closer to the reality and how far do you think the policy's market acceptance will go?
Chen: China-based Taiwanese businesses may not have much difficulty obtaining loans from banks, which are considered indirect finance. But they surely have a hard time raising capital directly from the capital market there including Hong Kong.
Currently, there are around 14 Taiwanese companies listing in Hong Kong. But Hong Kong's capital market is over-saturated while, in Taiwan, we still have 1,200 companies [in the over-the-counter market] that are ready to get listed. In terms of competitiveness, I think we're ahead of China and Hong Kong in terms of our attractiveness to businesses as a listing destination.
TT: How stiff will the competition get among the stock markets in Taiwan, Hong Kong and China in the coming years? Is there any room for cooperation among the capital markets in greater China?
Chen: Frankly, it's all about competition. Talk about how these three markets should cooperate with one another remains just talk. However, technically, I think a greater China index, dual listing and cross-border linkage should be feasible to facilitate and to benefit both Taiwan's and Hong Kong's stock markets, which should be a good start for both markets to cooperate with each other.
TT: After coming to office, you've been regarded as reform-minded as far as improving corporate transparency on the TAIEX is concerned. Any reform plans in the pipeline?
Chen: We're lucky to have succeeded in improving the market's transparency while cutting back its negative impact on turnovers. Reforms take effort and time. I think we will work hard to upgrade and diversify the TAIEX's trading and order-placing system so as to keep up with international markets.
Also, to beef up the competitiveness of Taiwan's capital markets, I propose that the government should begin thinking about measures to integrate the stock market, the futures market and the over-the-counter market by merging the stock exchange with the Taiwan Futures exchange (期交所) and the Gretai Securities Market (櫃檯買賣中心), formerly known as TAISDAQ, into a unified body so as to sell an integrated investment portfolio.
Take options for example; it's the most popular investment destination traded on the futures markets in Taiwan, yet it is usually traded on the stock market in other foreign-country markets.
By doing so, I think we should be in line with international standards and be competitive with other Asian markets. But it's the government's job to hammer out a well-thought-out plan.
Comments will be moderated. Keep comments relevant to the article. Remarks containing abusive and obscene language, personal attacks of any kind or promotion will be removed and the user banned. Final decision will be at the discretion of the Taipei Times.