Parmalat misplaces US$5 billion
CRYING OVER SPILT MILK The Italian dairy products giant stood on the brink of bankruptcy as its shares fell 66% after officials said billions of euros were lost
Parmalat, the Italian dairy and food giant, slid to the brink of insolvency on Friday after the company disclosed that a bank account that supposedly held nearly US$5 billion of its money did not exist. \nParmalat said that Bank of America had told one of its auditors, Grant Thornton, on Wednesday that a document showing that a Parmalat finance unit in Cayman Islands had an account of 3.95 billion euros (US$4.9 billion) was a fake. A Bank of America spokeswoman in London declined to comment. \nThe crisis at Parmalat, which has been escalating in recent weeks, now dwarfs accounting problems that have roiled European companies like Royal Ahold of the Netherlands, Vivendi Universal of France and Elan of Ireland. Such scandals have demonstrated that European accounting standards and regulation can be susceptible to Enron-like problems. \nThe Parmalat case, and its implication that a fraud has been committed, will be certain to provoke debate about the failure of European regulators and banks to ask questions sooner. \nAfter a board meeting late Friday that was called by Enrico Bondi, the new chairman, Parmalat issued a short statement saying that it would provide information to judicial authorities. \nIt did not address plans for Parmalat or the prospect of bankruptcy. But for a company that narrowly avoided defaulting on US$183 million in debt just days ago, the prospect of missing US$4.9 billion -- more than half its revenue last year -- makes bankruptcy seemingly inevitable. \nThere are a number of bankruptcy options under Italian law, including liquidation. But the most likely outcome for Parmalat would be a protection from creditors under the supervision of the Industry Ministry. \nThis would allow the company -- best known for its long-life milk but also the owner of Archway cookies and dairies in the US -- to remain in business while its finances are untangled. \nIt is a stunning downfall for a company that began as a family-owned delicatessen and grew in recent years to become a global rival to Nestle, Danone and Kraft, selling milk and food products in 30 countries including the US. That rapid expansion, however, came at a cost, and the Tanzi family that controls Parmalat began resorting to ever more convoluted schemes to finance growth. \nBy last year, Parmalat, based here in north-central Italy, stood at the center of a galaxy of 120 different companies, often with obscure purposes. \nThe rise and fall of Parmalat illustrates the archaic nature of corporate Italy compared with business in other Western industrial powers. \nItaly is a land of self-made entrepreneurs at family-run companies. Except for the state-owned sector, virtually all the Italian economic heroes, including the Fiat auto group, the tire and cable company, Pirelli, and the Benetton apparel group, are family-run. \nBondi, who replaced Calisto Tanzi, Parmalat's founder and majority shareholder, might resign. \nThe Milan stock exchange barred Parmalat shares from trading for most of the day, after they fell more than the permitted 10 percent on Thursday over continued concern about Parmalat's future. \nBut investors punished Parmalat bonds, pushing them down to as low as 25 percent of face value from about 45 percent. Parmalat almost defaulted on 150 million euros of bonds that matured last week, making the payment four days late. \nIf Bondi, the chairman, ultimately fails to keep Parmalat together, it would be the end of a remarkable Italian success story. The valley around this north-central Italian city sees itself as being to food what Silicon Valley is to electronics: a place of excellence and commercial success. \nThousands of small companies sprouting like fine mushrooms, most of them more craftsmen than industrialists, have for generations produced Parma ham, Parmesan cheese and all manner of pasta from agnolini to ziti. \nAmong the mushrooms stood a few oaks, like the Barilla brothers, whose huge factories lie just north of the city looking more like aircraft assembly plants than pasta works. Tanzi was another. \nFrom the village of Collecchio, just up the Taro River valley from Parma, Calisto Tanzi, the son of a maker of hams and preserves, built his company, Parmalat, whose name comes from Parma and the Italian word latte, for milk, into one of the world's biggest dairy products companies. \n"The strategy was beautiful, it was a global leader in food," said Guido Corbetta, an economist at the Bocconi University Business School in Milan. \nIndeed, Tanzi's path differed widely from that taken by most of the entrepreneurs of Parma. While most built their success on traditional local products, like cheeses and hams, Tanzi's was based on modern innovation. He was also among the first in Parma to recognize the importance of branded foods, even for items as everyday as milk. \nBy the late 1960s, Parmalat was branching out into other innovative products, like long-life cream and milk substitutes. The drive into new products was accompanied by geographical growth, both in Europe and the Americas. \nBy the mid-1990s, Parmalat had pushed into the US, urging skeptical Americans to change age old habits of drinking only fresh cold milk. Tanzi spent US$2 million to introduce the milk in New York by sponsoring the Italian tenor Luciano Pavarotti in a free concert in Central Park. \nA huge ad budget highlighted the convenience of long-life milk. \nBy last year, Parmalat was generating roughly a third its global revenue of 7.6 billion euros (US$9.4 billion) in North America, much of it thanks to the long-life milk. \nBut success began to sour last month, when Parmalat reported an investment of 500 million euros (US$619 million) in Epicurum, a hedge fund based in Cayman Islands. The company then sought to calm investors by saying it would recover the money, but has been unable to do so. \nThe company has also disclosed that a Citigroup vehicle Buconero -- or "black hole" in Italian -- had invested in a Parmalat unit, which then lent the money to other parts of the company. \nLast week, Standard & Poor's cut its credit rating on Parmalat eight notches to junk. On Friday, S&P lowered its rating to D -- for default -- its lowest rating. \nShares of Parmalat plunged 66 percent on Friday, and have fallen 87 percent since the beginning of this month. The Tanzi family, which still owns 51 percent of the company, has seen its holdings shrivel up.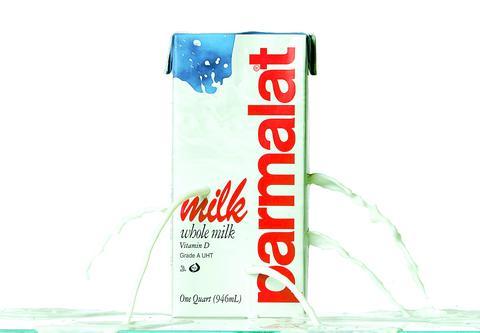 Parmalat, the Italian dairy and food giant, slid to the brink of insolvency on Friday after the company disclosed that a bank account that supposedly held nearly US$5 billion of its money did not exist. Parmalat said that Bank of America had told its auditor, Grant Thornton, that a document showing that a Parmalat finance unit in the Cayman Islands had an account of 3.95 million euros (US$4.9 billion) was fake.
PHOTO: NY TIMES
Comments will be moderated. Keep comments relevant to the article. Remarks containing abusive and obscene language, personal attacks of any kind or promotion will be removed and the user banned. Final decision will be at the discretion of the Taipei Times.