A new China is blowing in the wind
RENEWABLE RESOURCES Although Beijing is rarely lauded for its environmentally-sound policies, it is now trying to create alternative energy plants in Xinjiang
Nestled in a blasted valley below the Tianshan mountains of China's westernmost Xinjiang region are 172 stark white windmills that may hold the key to the country's quest for clean energy to power its booming economy.
Wind power may eventually help wean China off smog-spewing coal and crude oil from the volatile Middle East, officials say.
Incongruous against the grey-brown moonscape of the remote region, the windmills that make up China's largest wind farm can put out 90.5 megawatts of electricity a year, enough to meet just three percent of the needs of Urumqi, Xinjiang's capital.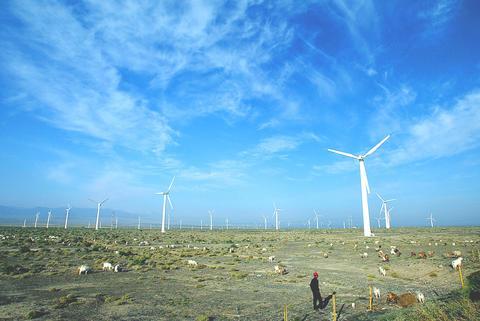 A Uighur shepherd herds his sheep at the Dabancheng Wind Power Plant in the central part of China's Xinjiang Uighur Autonomous Region Sept. 12. The wind power plant, with 172 turbines and capable of producing 9.05 megawatts, is the biggest in Asia. Xinjiang's wind power resources are abundant but wind-generated electricity is still relatively expensive and technical problems need to be solved before wind can contribute more significantly to China's power mix. For about three decades, Turkic-speaking Muslim Uighurs, who form the dominant ethnic group there, have used political and militant activities to work towards independence from China.
PHOTO: REUTERS
"China is moving towards non-polluting energy sources. Wind power doesn't pollute the environment like fossil fuels and unlike oil and gas, is not a one-time resource," said Sun Hao, manager of the Xinjiang Tianfeng Wind Power Co Ltd, which runs the operation. "Xinjiang has very rich wind resources -- as good as what you'd expect to find in the United States."
Sun said demand is so great the company is now undertaking a study to expand capacity to 140 megawatts.
Beijing, aware of a swelling energy deficit after years of rapid growth, is pumping 16 billion yuan (US$1.9 billion) into 30 such farms over the next two years, state newspapers say.
China's small clutch of wind farms have a paltry generating capacity of 468 megawatts, and will thus require huge investment before beginning to make a dent in the country's energy mix. The country has installed electricity capacity of 356,000 megawatts.
By comparison, the European Wind Energy Association (EWEA) said Germany -- the world's largest wind power generator -- and the US had installed wind power capacities of some 12,000 megawatts and 4,685 megawatts, respectively.
"I wouldn't get too excited about the government investment just yet because the industry is minute. It needs a lot more money and a lot more legislation to get it going," said a Beijing-based renewable energy analyst.
EWEA estimates that installed wind power capacity has grown 30 percent annually and now totals 32,000 megawatts at the start of this year, worldwide.
By 2020, wind power should satisfy 12 percent of global electricity demand.
China has been left largely behind in the wind power race but now recognises the need to diversify its energy sources, whether by building the world's largest hydroelectric power project in the US$25 billion Three Gorges Dam, or by increasingly considering nuclear and thermal power.
But Tianfeng is a less-than-auspicious start for wind power in some ways. Sited halfway between Urumqi and Turpan, its turbines can only be reached via a pothole-strewn road frequented by camels nibbling on the sparse grass along its sides.
Tianfeng sells its electricity to the grid for 0.533 yuan (US$0.06) per kilowatt hour. This pales in comparison to wind-generated power in other countries, which costs some US$0.04 per kwh or fossil fuels, which cost about US$0.025 per kwh.
The program is unlikely to displace coal as China's top energy source. Coal provides nearly 70 percent of the country's energy compared with 25 percent for crude oil and 3 percent for natural gas. Wind power accounts for an anaemic 1 percent.
Comments will be moderated. Keep comments relevant to the article. Remarks containing abusive and obscene language, personal attacks of any kind or promotion will be removed and the user banned. Final decision will be at the discretion of the Taipei Times.