China's trade hurt by sanctions
VICTIMS OF POLITICS? Some companies are complaining that they were given no lead time to plan for the sanctions and have shipments enroute
Business has been lively and growing at the 828 International Trading Co in the six years since Jim Shepherd and his partner began selling area rugs imported from a half-dozen countries around the globe. But now a large batch of colorful cotton rugs that they recently had shipped from China has been ensnared by a Bush administration measure imposed in May to punish Chinese companies accused of supplying ballistic missile technology to Iran.
Unwittingly, 828 International Trading, based in Greenville, South Carolina, is just one of an unknown number -- and variety -- of American businesses that have been tripped up by the measure, which banned all shipments by five Chinese companies to the US for two years to penalize them for violating the Iran Nonproliferation Act of 2000.
Among the five is the China North Industries Corp, the state military-industrial conglomerate better known as Norinco. And unluckily for 828 International Trading, its Chinese agent had contracted with Norinco to ship the latest rug order. The container with 1,300 rugs, worth an estimated US$100,000, has been seized by US customs agents and is currently in a warehouse in Charleston, South Carolina.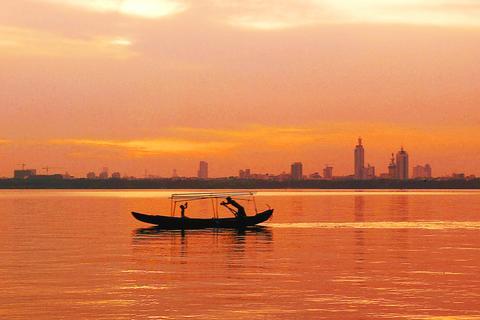 A boat plys the water of Dong Hu at sunset in the central Chinese city of Wuhan, Friday, while new factories and highrise office buildings are being built in the background. The US decision to implement sanctions against several Chinese conglomerates for alleged weapons sales could do extensive damage to development and investment in China, as companies seek to avoid violating the regulations, which requires US customs agents to seize products related to the banned firms.
PHOTO: REUTERS
The ban, which also covers one North Korean company, requires the Bureau of Customs and Border Protection to deny shipments by the six companies into this country -- no exceptions, said Christopher Bentley, the agency's spokesman in Baltimore.
The wrinkle for Shepherd and some others, like Peigeng Lu, of the Nichem Co, a New Jersey supplier of activated carbon for water treatment plants, was that their goods were already in transit when the ban was announced on May 23.
Also, other government agencies list sanctioned countries on their Web sites, but the State Department's Bureau of Nonproliferation lists such countries only in the Federal Register, said Timothy Rolland, a customs law specialist at Gatti & Associates in Haddonfield, New Jersey, who represents a client with goods seized under the measure. And that is "a publication that is not usually read by everyone," he said.
American companies that had goods shipped by the Chinese companies after the ban was announced could face hefty fines and possible criminal penalties; their property will also be destroyed, Rolland said.
In announcing the ban, the US State Department said only that the Chinese companies' shipments had the "potential to make a material contribution to weapons of mass destruction or missiles."
Anthony Pinson, a spokesman for the Bureau of Nonproliferation, said the bureau "was very tightly constrained in explaining our decisions because there is intelligence involved."
After the measure was announced, Norinco, one of China's biggest import-export enterprises and a major supplier to the Chinese military, said it was "strongly against and dissatisfied with the US government saying that we assisted Iran's weapons program," and denied helping countries develop "this kind of missile."
Norinco was investigated by US officials for automatic weapons smuggling in the 1990s and accused of selling banned military hardware.
Li Guodong, a manager at the Taian Foreign Trade General Corp, another company sanctioned under the new ban, said in an interview: "In 2001, we had exported a chemical radiator to a company in Iran. That company produces agricultural pesticide." And although Taian is "very angry" over the sanctions, he said, it does less than 10 percent of its business with the US.
Other American businesses that have been involved in similar transactions have avoided public comment for fear of being seen as unpatriotic, according to those who agreed to be interviewed. "We wouldn't do anything to harm the United States," Shepherd said.
William Evans, a senior vice president at Barthco International, a freight forwarder based in Philadelphia, said such company bans occur regularly now as part of domestic security. But, he said, "they usually give you some lead time so people with shipments can get them before the sanctions begin."
Since Shepherd and some other American clients of the Chinese companies -- including Rolland's client, Jerry M. Sorkin of Wayne, Pennsylvania, a rug and antiques dealer whose 40-foot container with US$30,000 worth of such goods was seized -- had no opportunity to cancel orders or switch shippers, they are in a quandary.
Shepherd and Sorkin are deciding whether to send the goods back or destroy them, at their own expense. Government regulations require that they decide by July 30.
Lu of Nichem said he had decided to ship the materials back but would try to reimport them via another shipper. He declined to say just how much it had cost him because his shipment had been sitting in New York's port for the last month, but acknowledged, "It's not a small problem for us."
In Greenville, Shepherd said the seizure of his rugs "is a hardship, but it is not going to put us out of business."
Norinco has received its money already, under a May 5 letter of credit that legally bound Shepherd to pay for the goods, and it is Shepherd who is left to recoup the losses. He said he was meeting this week with his Chinese agent to explore whether the rugs could be returned.
In the meantime, his company's 25 employees are busy arranging to air freight replacement rugs to fill retailers' orders in time for the busy fall season.
Sorkin was trying to figure out whether he could ship the container to Canada and store it in a bonded warehouse there, a cheaper choice than returning the goods to China, while he tries to find a buyer.
"I just can't see throwing my hands up," he said, "or asking someone to take a match to the container." Sorkin, who also has paid for his goods, said he was going public with his plight because he wanted to highlight the damage inadvertently being inflicted on "little businesses who are being punished far more than the companies that were meant to be punished."
Comments will be moderated. Keep comments relevant to the article. Remarks containing abusive and obscene language, personal attacks of any kind or promotion will be removed and the user banned. Final decision will be at the discretion of the Taipei Times.