SARS ruins Shanghai's business run
A SICK JOKE Although the severe acute respiratory syndrome is centered in Guangdong, years of effort in building a large commercial center is now in jeopardy
Only one person is believed to have been infected by the deadly pneumonia-like SARS (severe acute respiratory syndrome) virus in the Chinese city of Shanghai, but the fast-growing business center is being badly affected by the scare.
Officials in the city, labelled the poster child for China's economic development, have stood by dumbfounded as events that had been months in the making -- from a Funds World seminar to the London Bullion Market Association's annual conference -- have been postponed or cancelled.
The Rolling Stones also put off their maiden gig in China because of SARS, dealing a huge blow to the image of China's financial hub, a city of 16 million which likens itself to New York or Paris.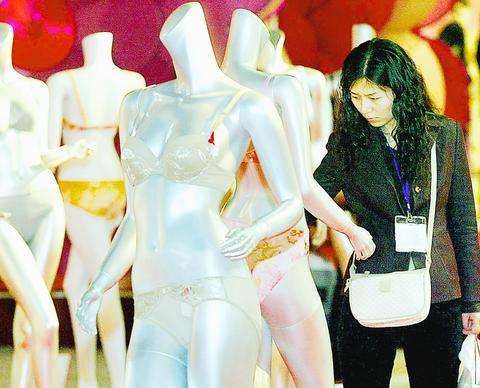 A buyer looks at lingerie at the Shanghai International Lingerie Exhibition last month. events that had been months in the making -- from a Funds World seminar to the London Bullion Market Association's annual conference -- have been postponed or cancelled as a result of the severe acute respiratory syndrome outbreak.
PHOTO: AFP
SARS, which has killed about 90 people worldwide and infected about 2,500, originated in southern China's Guangdong province late last year.
But it appears to have spread faster to nearby Hong Kong and then to other nations than elsewhere in China.
"China has become synonymous with SARS after the recent reports, and for someone unfamiliar with the differences between Shanghai or Guangdong, they will lump us together," said one city official.
Until Wednesday, Shanghai had consistently denied harbouring any SARS cases. Though the city government announced on Friday it has discovered just one SARS case so far, many city residents say they find that hard to believe because of the thriving commercial metropolis' close business links with Hong Kong and Taiwan.
"We're all worried about that. We don't know the numbers, all I know is that we're not getting any information," said a foreign medical doctor coordinating prevention measures with several foreign consulates.
"We are trying, ourselves, to sort this mess out."
Shanghai leans heavily on foreign investment to maintain its record of double-digit annual growth. It is trying valiantly to distance itself from Guangdong -- where 42 have died and cases now number more than 1,100.
"They're worried about scaring off foreign investment," said an executive at a Shanghai-based multinational, who stressed it was "business as usual" for the company's offices and plants.
The stakes are high for China's booming commercial center.
Shanghai recorded a 59 percent year-on-year rise in contracted overseas investment in the first three months of this year to US$3.393 billion, according to Xinhua news agency.
Morgan Stanley economist Andy Xie has cut his 2003 growth forecast for China by 0.5 percentage points to 6.5 percent, citing a regional SARS health scare.
"China must take emergency measures to restore investor trust. If it is mishandled, the SARS crisis could hurt China's economy for a long time," he wrote on April 2.
Despite official reassurances that the disease was not of worrying proportions in Shanghai, some aren't taking chances.
Shanghai's Singapore International School will be closed till April 11. The Shanghai American School closed on Thursday and is expected to reopen on Monday after a student was hospitalised with pneumonia, it said on its Web site at www.saschina.org.
"We can't deny we're having this problem," said another government official. "If people are worried about coming to China, we have to respect their wishes. It's their choice. We admit our prevention system is not comprehensive enough."
Comments will be moderated. Keep comments relevant to the article. Remarks containing abusive and obscene language, personal attacks of any kind or promotion will be removed and the user banned. Final decision will be at the discretion of the Taipei Times.