US college funds steam investors
Steven Grant, a retired mechanical engineer from Skokie, Illinois, regrets that he invested a total of US$20,000 in college savings plans for two of his grandchildren in February 2000.
By Sept. 30 this year, when he received his most recent quarterly statement from Fidelity Investments, the portfolio of his 10-year-old granddaughter had lost 22 percent of its value, while one for his 12-year-old grandson had lost 12 percent.
Grant is bitter about the losses.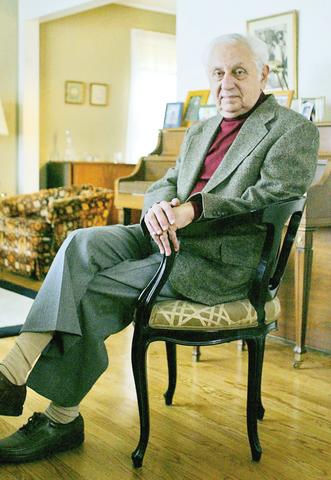 Steven Grant, 77, of Skokie, Illinois, is angry over losses in savings plans for his grandchildren. Grant in his home in Skokie in November.
PHOTO: NY TIMES
"I am not sure whether these Fidelity portfolios will recover," he said, "but these funds are supposed to do more than recover; they are supposed to give you a gain."
Grant is among many Americans who, in the bear market of the last two years, have made money-losing stock investments through state-sponsored college savings programs. The programs, which became popular only in the last two years and are known as 529 plans after a section of the federal tax code, offer a tax-sheltered way to make a long-term investment for a child's education. But looking at the short term -- the year so far -- every plan with a substantial stock component has lost money, according to Morningstar Inc.
Compared with the overall market, the stock funds have not done too badly. The average 529 stock fund declined 21.2 percent this year through October, according to Morningstar -- slightly better than the Standard & Poor's 500-stock index, which fell 21.8 percent, including reinvested dividends.
There are also 529 plans that focus on bonds and "age-based plans," containing a mix of equity and bond investments that shifts as a child grows older. The average 529 bond fund gained 2.5 percent during the period, but the average age-based plan for a 5-year-old child lost 16 percent. Age-based funds are the most popular single option, according to several leading fund companies.
The ratio of stocks to bonds in age-based funds declines as a child ages; the funds for 5-year-olds are mainly stock funds, although the formula varies from plan to plan, and those with the heaviest concentration of fixed-income investments have had the best performance this year.
Investors may shop for these plans anywhere in the country, but some states provide additional tax advantages for in-state investors, so it is important to carefully research individual plans and their investment options.
Many financial advisers say the 529 portfolios should not be judged on short-term performance. They are intended to provide returns over a decade or more.
Nonetheless, many investors have responded to short-term stock losses by pouring their 529 money into fixed-income funds over the last six months, according to leading managers of 529 plans across the country. In that period, about 40 percent of new investor assets flowing into college savings plans managed by TIAA-CREF in 13 states, including New York, California, Connecticut and Michigan, wound up in guaranteed investment options. This portfolio assures investors of a base annual return of 3 percent, with the possibility of more depending on prevailing interest rates.
The guaranteed investment option, rarely chosen by investors as recently as a year ago, has become almost as popular as age-based portfolios in the last six months, said Timothy E. Lane, TIAA-CREF's vice president for tuition financing.
Similarly, Richard A. Davies, an executive at Alliance Capital who oversees the nationwide marketing campaign for the Rhode Island-based plan from his firm, said that about a third of all new investor dollars were now going into its insured fixed-income portfolio, currently yielding about 4.45 percent a year.
Two years ago, he said, investors were directing about 40 percent of their college savings funds into all-stock portfolios. That share has plunged to about 12 percent.
These trends trouble some financial planners. "These guaranteed plans are very exciting for someone concerned about the safety of their savings," said Steven Klane, a partner at Sands & Klane, an accounting and financial planning firm based in Minneapolis. "But investors should be seeking to exceed the rate of inflation and grow their college funds."
Despite the gains of fixed-income funds, fund managers report that age-based portfolios remain popular, and most advisers recommend them. A portfolio for an infant or preschool child would generally consist almost entirely of a mixture of equity mutual funds.
Comments will be moderated. Keep comments relevant to the article. Remarks containing abusive and obscene language, personal attacks of any kind or promotion will be removed and the user banned. Final decision will be at the discretion of the Taipei Times.