Makers work on `flash-to-bang time'
ARMS INDUSTRY Following the Sept. 11 attacks on the US, American's have become more willing to pour big bucks into some fast-paced development projects
In soldier slang, the interval between a gun's recoil and the shell's explosion is known as "flash-to-bang time." In combat, the shorter it is, the better.
With war looming in Iraq, the term has taken on broader significance -- in both the business of war and the business of supplying warriors. Everyone wants shorter flash-to-bang -- from the moment a target is spotted to the moment it is destroyed, from the moment a march is ordered to the moment troops arrive, from the moment of invention to the moment of production and delivery.
That is why, here in the rural hills of Maryland, at a robotics laboratory owned by General Dynamics, the engineers boast that their new driverless vehicles, little armored off-road trucks bulging with lenses and antennae, can maneuver through the woods and fields at a snappy 32kph (16kph at night).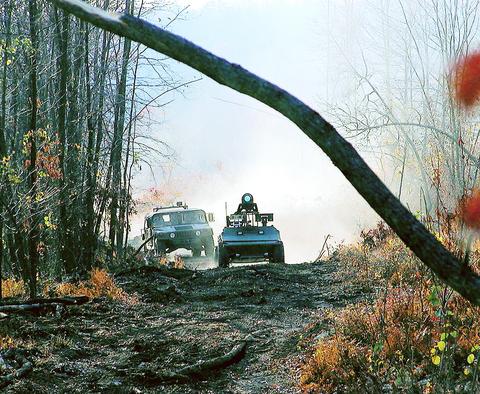 Faster-moving infantry, smarter bombs, newer satellites, and pilotless vehicles are all being propelled by a wartime sense of urgency. A military overhaul in the US has led to new products such as a driverless armored trucks developed by General Dynamics in Westminster, Maryland.
PHOTO: NY TIMES
And that is why General Dynamics, after just two years working on the vehicles, is ready to brief the brass on how robotic vehicles like this could transform combat units. The company says the firepower of a full infantry battalion could be packed into a unit of about one-third the people: 270 soldiers equipped with 140 robots.
The same quick tempo can be seen across the military industrial complex. Faster-moving infantry, smarter bombs, newer satellites, pilotless vehicles -- are all being propelled by a wartime sense of urgency in what is sure to be a costly quest for speed. The average time between finding a target and hitting it dropped to 15 minutes in Afghanistan a year ago from 45 minutes in the Persian Gulf war of 1991. And the Pentagon is pushing to trim that even more.
At Boeing, thousands of kits are being produced each month to turn unguided bombs into the satellite-guided smart bombs that were used more widely in Afghanistan than in any previous war. Pentagon leaders have promised that if there is war in Iraq, there will be plenty of smart bombs.
With American troops still engaged in Afghanistan and getting ready for a possible war against Iraq, and with the Bush administration promising a "transformation" of the military, Congress appears willing to pay the price.
In recent years, it has increased the military's budget beyond what the president requested, and military spending is now growing at its highest rate in 20 years. With Republicans controlling both chambers, President Bush is sure to get a warm reception for another spending increase in 2004.
David Strauss, who follows the military industry for UBS Warburg, predicts that spending on research, development and procurement will accelerate to 8 or 10 percent annually over the next few years, adjusted for inflation, after real growth of 4 percent annually since 1996. In the early 1990s, he says, the Pentagon went on a "procurement holiday."
Of the total military budget of about US$370 billion, procurement this year will come to about US$71.6 billion, up US$10.7 billion from this year, while spending on research and development will come to US$58.6 billion, up US$9.9 billion, in the spending bill signed by President Bush on Oct. 23. It sounds like a lot, but in fact the money for procurement is roughly 40 percent less than it was 20 years ago, adjusted for inflation. In 1983, during the Reagan military buildup, procurement spending came to US$121 billion in today's dollars.
More notable than the spending spree itself, though, is where the money is being focused.
President Bush made the new emphasis clear last December, when he gave a major speech on military transformation. He highlighted three trends that were already becoming evident in the war in Afghanistan: the increasing use of robotic vehicles, the wider use of precisely guided bombs and the reliance on information-sharing networks.
"Our commanders are gaining a real-time picture of the entire battlefield and are able to get targeting information from sensor to shooter almost immediately," he said.
"Every soldier is a sensor," said Scott D. Myers, the president of the robotic systems division at General Dynamics and vice president of its Eagle Enterprises subsidiary, which is bidding on the modernization of equipment for foot soldiers. "And from the time he lases the target until the time the robotic vehicle selects its weapon and fires will be about five seconds."
The Army has been moving in this direction for years.
Land Warrior system
Late one night in September 2000, 45 paratroopers of the 82nd Airborne Division dropped from the dark skies over Fort Polk, Louisiana, for a mock combat drill against other Army troops. They wore an unconventional assortment of night-vision goggles, miniature computers and communications gear, a prototype of what the Army calls its Land Warrior system. The equipment had been cobbled together in just a year, and this was its first test.
The results were good enough that only a year later, similar equipment was delivered to American Special Forces units, which used it in Afghanistan.
It might cost billions of dollars to equip tens of thousands of soldiers with the full array of this gear, according to a report by the Pentagon's inspector general. But the Army is phasing it in -- even as it begins a program to invent an even more elaborate set of tools for foot soldiers.
The competition to design the new combat kit pits General Dynamics, a giant with US$14 billion in annual revenue, against a tiny entrepreneurial company, Exponent Inc, which has not been a traditional military contractor. Exponent has enlisted several partners, including Hamilton Sunstrand, a unit of United Technologies, whose expertise in making spacesuits for NASA is a big advantage. Conversely, General Dynamics has turned to its Eagle Enterprise unit, acquired a few years ago, to be the kind of entrepreneur the Army is looking for. Each team has been given US$7.5 million to produce conceptual designs and some prototypes, with an April deadline.
The ultimate goal is to reduce the amount of equipment carried by an individual soldier to roughly 22kg from more than 44kg, while greatly increasing the lethality of his weapons. Pentagon budget documents call the program "a leap ahead" and promise that it will achieve "revolutionary capabilities."
The Army has projected spending of about US$60 million a year for the next several years on research into the program and has projected that the new equipment will be ready for combat use in a half-dozen years or so.
Each soldier will have hand-held computers to control weapons, check maps and view pictures of the surrounding terrain. Individual radios will link the group into a tight team even as they spread out in the darkness; each team will be linked to others and to robots. In a squad of soldiers, one might carry a miniature drone aircraft capable, for instance, of flying around a city block to look for the enemy.
High-tech underwear
Even combat fatigues will be transformed. Synthetic undergarments will put sensors on the soldier's skin to monitor his physical condition, reporting if he needs medical attention. Several layers of lightweight clothing would include body armor and protection against chemical or biological attack.
With a vest or other garment designed like an electric blanket, a soldier might even be able to run a cord back to one of the robotic vehicles, which would provide a power supply for the many electronic devices each soldier would carry.
New batteries, carried by each soldier, are also being investigated; designed to last for many hours, they would be recharged by the robotic vehicles.
But there are many kinks in any such futuristic scheme. Congressional committees, while supporting the Pentagon's development of hybrid-electric power for vehicles like the robots the Army wants, have asked for periodic progress reports, citing worries that they might not function well in extreme cold.
That would be a problem, for example, for a unit deployed in the mountains of the Hindu Kush in Afghanistan in the dead of winter, unable to recharge communications batteries or warm up soldiers' uniforms.
All the emphasis on seamless communications among troops, ships and planes, and the visions of individual soldiers sending maps and photographs back and forth, or robots sending home streams of videos, have a glaring weakness: there is not enough telecommunications capacity, or bandwidth, on the military's satellites.
"You need a lot of bandwidth to move that kind of data around," said Cambone at the Pentagon. "Think about whether you would have been able to use your 286 computer to work the Internet as it exists today. You can't do it."
According to Boeing, one satellite maker, that became clear when American forces in Afghanistan found themselves short of enough radio channels even for their more limited tactical communications. To fill the gap, the Navy activated a nine-year-old satellite that had been put in orbit over Africa as a spare.
The old satellite added 15 percent more communications capability to the military forces in the region.
The problem has been known for some time. After the military's deployment in Bosnia, the Defense Advanced Research Projects Agency reported that only a few select headquarters were able to get enough bandwidth for large-scale exchanges of information.
"One thing we've learned," said Lieutenatnt General Harry D. Raduege Jr., the director of the Defense Information Systems Agency, "is that with each conflict that we have, we certainly increase the amount of bandwidth that is required for our deployed war fighters."
The need for a new satellite system to carry videoconferences between commanders, let alone the huge amounts of data shared by troops on the ground, became especially evident after Sept. 11, according to a Pentagon document. In response, the Pentagon has proposed a crash program to design and field a new satellite system, known as the Advanced Wideband System, starting this year and with the first launching in 2006.
Unlike previous satellite communications systems, this one would use a new kind of link entirely: one based on laser communications. As a mark of its importance to the technology revolution the Pentagon is seeking, it is being called by a new name: the transformational satellite.
Comments will be moderated. Keep comments relevant to the article. Remarks containing abusive and obscene language, personal attacks of any kind or promotion will be removed and the user banned. Final decision will be at the discretion of the Taipei Times.