MediaTek to focus on mobile-phone chips
CHIP DESIGN The company that has made a mint manufacturing DVD-player chips plans to diversify into digital signal processors as competition heats up
MediaTek Inc (聯發科技), the nation's second-largest semiconductor designer, plans to sell its first chips for mobile phones by the middle of next year as more rivals muscle in on its DVD-player chip business. \n"We've been looking for our next growth momentum," said Mingto Yu (喻銘鐸), director of MediaTek's finance division, in an interview. \n"There are lots of mobile phone makers in Taiwan, China and South Korea that we can sell to." \nMediaTek is turning to new products to sustain growth in profits, which quadrupled to US$94.5 million in the first quarter as sales tripled. That rate of growth may be threatened as rivals such as VIA Technologies Inc (威勝), the nation's biggest chip designer, start offering DVD-player chips, investors said. \n"Ninety five percent of MediaTek's sales will still come from its current products until 2004," said Samir Mehta, who counts MediaTek shares among the US$2.2 billion that he helps manage for Lloyd George Management. "If VIA chips away at those products, MediaTek's super-normal profits will probably fall." \nThe shares of MediaTek, which listed on the stock market in July last year, have declined more than a third in the past month on investor concern that waning demand for electronics products may hurt the company's profit in the second quarter. \nThe shares closed at NT$522, down 1.3 percent, on the stock market yesterday. \nA total of 1,078,000 shares changed hands, the lowest volume since Oct. 16 last year. \nMediaTek will offer digital signal processors, the "brains" of a mobile phone, in rivalry with Texas Instruments Inc. \nMediaTek, which has taken market share from rivals such as Sony Corp in the DVD-player business, has a low-cost advantage because it only designs semiconductors and doesn't bear the cost of owning a billion-dollar chip plant, investors said. \n"It's a good strategy," said Michael Ding (丁予嘉), who counts shares in MediaTek among the US$47 million in equities he helps manage for International Investment Trust Co (國際投信). "In terms of cost structure, they're going to do well." \nBesides mobile phone chips, MediaTek plans to boost sales by offering its first chips for DVD recorders by the end of this year, Yu said. VIA has said it will offer its first DVD chips during the second half. \nThe government may change accounting rules for chip- related companies, and profit margins at companies such as VIA and MediaTek may narrow if those rules are implemented, investors said. The new rules will require companies to reflect stock options given to employees as part of their costs. \n"If accounting rules are changed, what would the picture look like?" asked Mehta, who has recently sold part of his stake in MediaTek. "Not very pretty." \nMotorola Inc, the world's second-largest mobile phone maker, said that it expects rivals in Asia to boost their share of the market by offering products that are more affordable to consumers in the region. MediaTek expects the region's mobile phone makers to be its main customers for the new chips. \n"Mobile phones are the same as the personal computer business was 20 years ago," said Yu of Asia's rise to dominance in personal computer manufacturing after the industry began in the US MediaTek's strategy may work because it will sell to some of its DVD chip customers, some investors said. \n"MediaTek has been very focused on the consumer electronics business," said Mehta. "Mobile phones are also in that market." \nMotorola will be one of MediaTek's main rivals. The Chicago-based company said it expects to displace Texas Instruments, the world's biggest maker of mobile phone chips, as the largest supplier next year by selling more chips to other phone makers.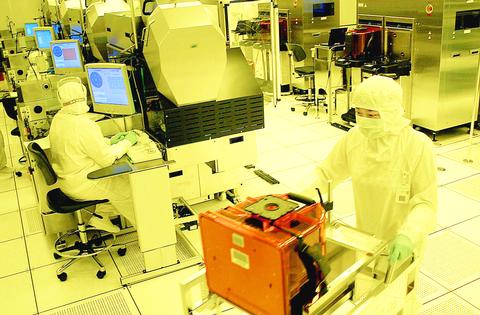 A technician at United Microelectronics Corp delivers a box containing 12-inch wafers. The fabless MediaTek is one of UMC's top customers, accounting for roughly 20 percent of UMC's sales in the first quarter of this year, according to one analyst.
PHOTO: AFP
Comments will be moderated. Keep comments relevant to the article. Remarks containing abusive and obscene language, personal attacks of any kind or promotion will be removed and the user banned. Final decision will be at the discretion of the Taipei Times.