Bus service allows carry-on wheels
TRANSPORTATION The semi-successful launch of Taipei's MRT system has forced private bus lines to exploit niche markets in an effort to remain in business
Ever arrive at your travel destinations in Taiwan only to discover that you lack local transportation? Seeking to address that market niche and bolster its bottom line, one bus operator plans to begin a new service today. \n"To attract tourists to take our northeast bus routes, we offer space for motorcycles and bicycles on our coaches," said Liang Tsung-tei (梁宗德), marketing manager for Taiwania You Bus Co Ltd (大友巴士). \nEach bus can handle up to five motorbikes or 10 bicycles. \nThe idea is simple: take the bus to your destination and then ride your own vehicle from there. \n"Passengers can take our coaches from Taipei to other counties and then ride their motorcycles to resorts." \nThe company's northeast sector covers from Taipei, Keelung, Ilan to Hualien, and stops near more than 10 popular locations such as Taroko National Park, Fulung Beach and Suao Port. \nPassengers pay NT$100 per person to Ilan, NT$200 to Hualien and NT$100 for each motorbike. Bicycles are transported for free. \n"Over the last few years, we have noticed that a growing number of people like to travel to the northeast coast, so we decided to tap into that market." \nSince the Taipei MRT system began service in 1996, the bus company has seen its revenue plummet. \n"Ever since the MRT system began service in Taipei City, our monthly sales fell by more than NT$20 million," Liang said. \nThe company has completely suspended its route between Taipei City Hall and Taipei Main Station since last year. The "Chunghsiao Line" runs the same route as the MRT, Liang said. \nTaiwania You Bus is also mulling delivery services. \n"To date, transportation between Taipei and northeast Taiwan is still not very convenient, making delivery costs high," he said \n"By means of our hourly bus service, transportation costs can be reduced," Liang said. \nThe venture is also talking with delivery firms in search of shipping partners. Other bus service are also beginning to focus on new niche markets. \n"The public still needs to commute between MRT stations and their neighborhoods or offices, and that's where our buses should go," said Chiu Chien-chi (邱乾機), deputy manager of Taipei Bus Co Ltd (台北客運). \nChiu said the company had bought more than 100 minibuses last year, which are designed to provide short-distance services. \n"During the weekends or holidays, we also provide shuttles buses between train stations and suburban resorts. This is another opportunity to increase revenue," he said.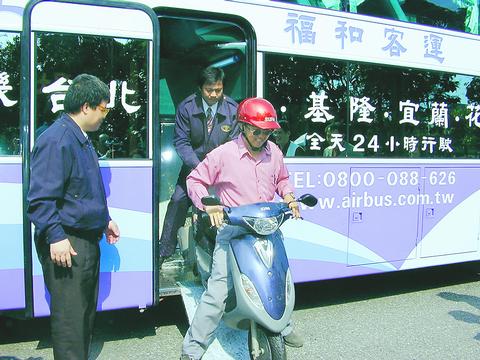 A passenger disembarks from a Taiwania You Bus vehicle. The company allows customers to bring motorcycles and bicycles on the bus.
PHOTO: YU HSIU-HWA, TAIPEI TIMES
Comments will be moderated. Keep comments relevant to the article. Remarks containing abusive and obscene language, personal attacks of any kind or promotion will be removed and the user banned. Final decision will be at the discretion of the Taipei Times.