Germans losing their taste for beer
HEAVENLY BEVERAGE A staple for over 500 years, Germans now prefer other forms of alcohol, causing brew consumption to fall 20 percent in the last 20 years
The German passion for beer has gone flat. \nThe notion that Germans have an insatiable thirst for beer and guzzle their world famous beverage with breakfast, lunch and dinner may linger as a cliche, but breweries know the depressing truth: beer consumption is falling -- and at a frightening rate. \nDown by nearly 20 percent over the last two decades, beer drinking fell another two percent in the 2001 first quarter and there is no end in sight for the long and steady slide. Output and turnover are also dropping and roughly half the country's 1,270 breweries are believed to be unprofitable. \n"The market is facing radical change," said Dieter Ammer, chairman of Beck GmbH & Co, the country's top exporter, that was recently put up for sale. \nBeer may still be among the most important drinks in Germany, with some using the beverage for as much as half of their daily intake of fluids. \nIt is neither uncommon, illegal or even frowned upon for workers to sip ales during mid-morning breaks or at lunch. Winning soccer teams traditionally douse each other in beer and celebrate their victories with huge foaming mugs. Vending machines often have beer and you can even order a plastic cup of it at fast-food restaurants. \nBut despite the easy availability, per-capita consumption has dropped to 125 liters from a peak above 156 liters in the 1980s, sending the former world champions in Germany to third place behind the Czech Republic -- at 150 liters -- and Ireland. \nBrewers attribute the beer drinking slump to several factors, including stiffer drink-driving rules, increased competition from wine and non-alcoholic beverages, a new-found health consciousness and the fact that Germany is a mature market with a stagnant population. Most worrying for the beer makers is a strong shift away from beer by younger Germans who consider it a rather stuffy and old-fashioned drink. \n"The wind is blowing against us," said Ammer, Beck's chairman, who is also head of the German brewers' association. "And it looks like the trend will continue." \nAmmer blames German political leaders in particular for steps that he said hurt the image of the national drink. He blasted the recent decision to lower the legal drink-driving level. The blood-alcohol limit was cut to 0.5 percent from 0.8 percent, a move that especially hurt taverns in rural regions. \nOut with the old ... \n"There has been an hysterical campaign against alcohol," he said. But Ammer also acknowledges beer is no longer the drink of choice for young Germans, whose abstemiousness is causing problems for hundreds of struggling small breweries. "The young people prefer exotic beverages and anything that is new." \nThe brew of water, hops, yeast and malt has been around for more than 3,000 years. In 1516 the German Beer Purity Law that decreed nothing but natural ingredients could be added made German beer a standard others tried to imitate. \nBrewed by monasteries in the Middle Ages, beer was considered an important, healthy and necessary beverage. In the 16th century people in Hamburg drank an average of about 800 liters each year, more than two liters daily. That tradition no longer seems to carry as much weight. The younger generations that have cast off other baggage from the country's turbulent and ignominious past are also happy to part ways with their boozy heritage. \nHealthy look \n"I associate beer with beer bellies, flab and an unhealthy lifestyle," said Lars Gessler, a 28-year-old student who nevertheless manages to stay trim despite drinking 50 liters each year. \n"Younger people want flat stomachs and good health," he said. "They just don't like the taste of beer. It doesn't taste good and it's not trendy. You can't savor it the way you can enjoy a glass of wine. With beer you just chuck it down. Also, I think globalization has opened us up to other drinks, like cocktails, that come from other parts of the world." \nThe steady erosion of beer drinkers in the crucial 20 to 45 age bracket has forced the country's brewers to rethink their time-honored strategies. Some in the fragmented industry dominated by local microbreweries have resisted the changes and suffered from dwindling sales and profits. \nOthers, such as Beck's in Bremen, have decided to sell. Beck's is Germany's fifth-biggest brewery and sells its beer in 120 countries. \nSome, like the Karlsberg brewery in Hamburg, have opted to chase the shifting taste buds of the younger crowds by adding non-alcoholic beverages to their line-up and creating new drinks made of beer mixed with cola, tequila, fruit juices or other ingredients. \n"A lot of young people told us they didn't like the sharp taste of beer," said Karlsberg spokeswoman Ute Leitner. "They want something better. Beer just isn't cool enough anymore. It's not hip. It's what their parents drink." \nKarlsberg tried to find to make its beer more attractive to younger taste buds by introducing additives. Seen by some as near sacrilege in the country that fought so hard to save its purity law, the drinks have nevertheless caught on. \nIn 1993, the company came up with a new drink called "Mixery" made up of beer, cola and a secret ingredient it calls "X." \n"Mixery has become the most popular drink in night-clubs in the entire region," Leitner said. Its alcohol content of 3.1 percent is below the 4.8 percent level of many beers. Encouraged by the success, Karlsberg has also introduced a beer drink mixed with apple juice that has a 2.8 percent alcohol content. \nThe beer may taste awful to the country's true aficionados but for those who prefer the real thing, there still 5,000 brands to choose from. And, despite the decline, the beer making sector is still a huge and important industry. \nThe German beer industry has an annual turnover of DM18 billion and some 40,000 employees. Sales are down, nevertheless, by nearly DM2 billion in the last five years. \n"The consolidation will continue," said Erich Dederichs, managing director of the brewers' association. "But beer is a part of our culture and a part of our heritage, and it will stay that way."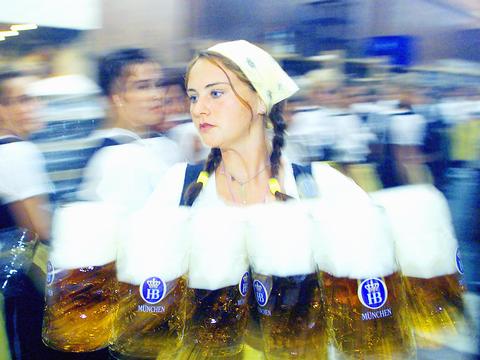 A beer maiden carries full mugs during the opening of Oktoberfest in Munich last year. Despite the popularity of the annual festival, beer consumption in Germany has fallen sharply in recent years, largely because young Germans are drinking far less of the country's national beverage.
PHOTO: REUTERS
Comments will be moderated. Keep comments relevant to the article. Remarks containing abusive and obscene language, personal attacks of any kind or promotion will be removed and the user banned. Final decision will be at the discretion of the Taipei Times.