Mergers may bring joblessness
REORGANIZATION Christine Lagarde, an executive at US-based Baker & McKenzie, says restructuring is an international trend with some negative side effects
Taiwan's financial restructuring may lead to a higher unemployment rate, said Christine Lagarde, head of the global division of Chicago-based Baker & McKenzie, one of the world's largest law firms. \n"I think the key issue is to deal with people," Lagarde told the Taipei Times yesterday. "In the context of a restructuring of that size, some people are going to be let go and unemployment will rise as a result." \nLagarde has practiced employment law since 1981. She said that corporate restructuring is an inevitable trend around the world. \n"Companies should reorganize their assets based on consolidated assets, which means keeping their best talent," she said. \nLagarde made the remarks after delivering a speech yesterday entitled "Legal Challenges for the 21st century" at the event, which was co-sponsored by the European Council of Commerce and Trade (ECCT) and the American Chamber of Commerce (AmCham). \nRecent mergers and acquisitions in Taiwan's financial sector, such as the one between First Commercial Bank (第一銀行), Dah An Bank (大安銀行) and Pan Asia Bank (泛亞銀行), may spark a wave of financial restructuring in Taiwan. \nSome have predicted that the unemployment rate will rise as a result, although the bankers have denied that they will cut jobs. Lagarde, a French national who operates from the firm's Chicago headquarters, said that Taiwan is relatively well prepared for the reforms, though China is not as fortunate. Triggering reforms in China, particularly the financial sector, may be the mainland's impending entry into the WTO, Lagarde said. \nBut that will not happen soon as Chinese trade negotiators are adopting a gradualist approach to China's financial deregulation. \n"Chinese negotiators are careful not to negotiate a short transition period [after WTO entry], but try to slow down the process in [the financial] sector," she said. \nOne of the major challenges in the coming years will be the protection of intellectual property rights (IPR) in China, she said. \n"If we look at the intellectual property practices in Hong Kong and the Beijing office, [we see that] it is a very active sector -- which means there is a lot of piracy and that is giving us lawyers a lot of work," she said. \nBaker McKenzie, arguably the world's largest law firm, has 61 offices in 35 countries. \nAnother big challenge Taiwan companies must face is the draining of talent to North America and China. Regarding this situation, Lagarde advised making improvements in the domestic working environment. \n"Money is important because it will attract people ... but the atmosphere in which people work is also important," she said. "They want to have fun, enjoy themselves, and feel that their company is like a family."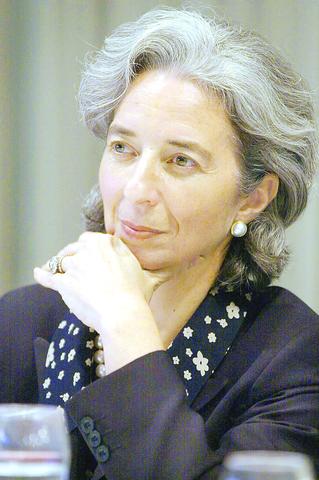 Christine Lagarde, head of the global division of Baker & McKenzie said, refering to Tuesday's bank merger, ``In the context of a restructuring of that size, some people are going to be let go and unemployment will rise as a result.''
PHOTO: CHIANG YING-YING, TAIPEI TIMES
Comments will be moderated. Keep comments relevant to the article. Remarks containing abusive and obscene language, personal attacks of any kind or promotion will be removed and the user banned. Final decision will be at the discretion of the Taipei Times.