Retracing the German trail of the Sept. 11 plotters
THE HAMBURG CELL The country's officials say they have learned, among other things, the ease with which terrorists can blend in with foreign students in big cities
Shortly after Sept. 11, when the US sent out urgent inquiries for leads on the suspected hijackers, German officials quickly traced three of the ringleaders to an apartment in this affluent northern port. \nIt was an important break. But the names and address -- Marienstrasse 54 -- suddenly seemed familiar, German investigators say, and then they realized why: In 1998 and 1999, they had those same men and that same apartment under surveillance because of suspected links to an operative for Osama bin Laden. \nWhen nothing came of the surveillance, it was abandoned. Yet during that period, the investigators now ruefully admit, Mohamed Atta and his colleagues used the apartment as a base to plan the Sept. 11 attack. "We have learned a lot in the meantime," confessed a senior German government official, referring to the group, now known as the Hamburg cell. \nOpen society, open target \nAmong the lessons, investigators say, is just how easily terrorist plotters can blend in with innocent foreign students in large Western cities like Hamburg, making their detection challenging even when the police have them directly in their sight. The Hamburg cell members were indistinguishable from hardworking Arab and Muslim students seeking only to gain skills and education. For the tenants of Marienstrasse 54, the aim was to turn the West's techniques into the means of its own destruction. \nThe tenants under surveillance included not only two of the actual hijackers but three other plotters who slipped into Pakistan and probably Afghanistan in the days before the attack. Today, American and German investigators say, those three are among the most wanted men on earth. They know as much as anyone alive about the plot, and they are dangerous, likely to attack again. \nIn recent days, German and US officials have been meeting in an effort to pin down everything they know about the three fugitives. One, Ramzi Muhammad Abdullah bin al-Shibh, a Yemeni, whose real name may be Ramzi Omar, may well have been the missing 20th hijacker who failed to participate in the Sept. 11 attacks because he was denied a visa, the FBI recently said. \nAnother was perhaps even more important, the logistical brains behind the cell. He is Said Bahaji, a student of electrical engineering who fooled German intelligence as well as his father-in-law. \nThe third is Zacarias Moussaoui, who was detained in Minnesota. \nOsman Kul, whose daughter, Nese, married Bahaji at a local mosque in October 1999, said he had little grounds for displeasure when he learned of the couple's plans. Over coffee in his living room, Kul said he did not know until much later that some of the seemingly nice young men at the wedding were radical Muslim students involved in the plotting for Sept. 11. \nKul, the son of Turkish immigrants to Germany, admits that he would have preferred a son-in-law of Turkish descent. But he was pleased when Bahaji, now 26, and Nese, who just turned 21, had a son, Omar, last spring. \nSince Sept. 11, Kul, like German investigators, has had a different view. Bahaji is thought to have obtained apartments, organized financing and communications, and helped the German hijackers apply for visas to the US. Though he probably never intended to participate directly in the hijackings, his activities show how seamlessly the group blended into student circles in working class neighborhoods. \n"I see now that he was an actor," Kul said, "a splendid actor." \nKul last saw his son-in-law in early September. At that time, Bahaji announced that he was going to Pakistan for computer courses. \nAt the meeting, the roles of Kul's daughter and son-in-law appeared reversed, he said. His daughter, an active young woman who loved snorkeling and horseback riding, was clad in lengthy garments and a veil in the Muslim tradition; Bahaji, apparently in preparation for his trip, had shaved his thick beard. \nInvestigators traced his route to Karachi, Pakistan, via Istanbul, Turkey, but there the trail was lost. Except for an e-mail message sent to his wife shortly after his arrival in Pakistan, he has not been heard from since. \nThe man who almost led investigators to the hijackers, Mamoun Darkazanli, a dapper 43-year-old native of Damascus, Syria, came to the attention of the German police in 1998 after the arrest near Munich of Mamdouh Mahmud Salim, who was later extradited to the US, where he faces trial in New York for terrorism. \nUS officials had placed Salim on a terrorist watch list early in the summer of 1998. In August of that year, bin Laden operatives set off truck bombs outside two US embassies in Africa, killing more than 200 people. A month later, Salim went to Germany. \nImportant links \nSalim's cell phone had Darkazanli's phone number programmed into it. Darkazanli had signing rights for Salim's account at the Deutsche Bank. In 1995, when Salim first came to Germany to buy radio equipment for the bin Laden network, Darkazanli helped him. \nDarkazanli told the police the deals were legitimate business. Reached by phone recently, he refused to answer questions, saying he was acting on the advice of his lawyer. \nBahaji, born in Germany, spent his childhood here and in Morocco. He served in a tank unit of the German army before settling in Hamburg to study. Bahaji may have been responsible for the plotters' computer literacy. \nThorsten Albrecht, who rented the apartment to the group, described how the plotters equipped each of the three bedrooms with a table and computer hooked up to high-speed data lines. After marrying, Bahaji left the apartment on Marienstrasse and moved with his wife into a two-room, ground-floor apartment nearby that still has his name on the mailbox. \nThe German authorities say, however, that bin al-Shibh, 29, from Yemen, lived in the apartment after Bahaji left. Like his roommates, though not Bahaji, bin al-Shibh was supposed to go to the US, learn to fly and take part in the September attacks. In the summer of 2000 he applied for a visa to study flying at the Florida Flight Training Center, in Venice, Florida, where another of the Sept. 11 pilots, Ziad al-Jarrah, studied. \nOn August the 15th, he transferred US$2,200 from his account at Citibank in Hamburg to a branch of the West Coast Bancorp in Sarasota, Florida. At about that time, Zacarias Moussaoui, the third suspected terrorist in the group, was detained in Minnesota. In his possession, the police discovered a note with bin al-Shibh's German cell phone number.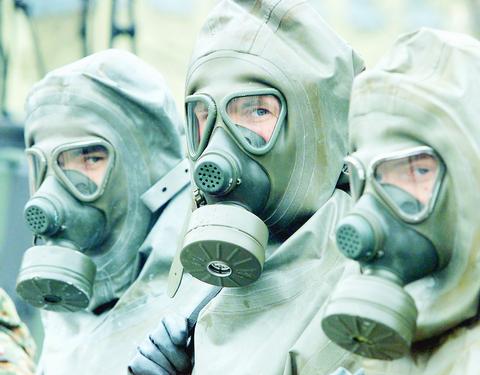 Soldiers of the NBC Defense Corps of the German Army, wear protection suits and masks during a drill at the General Jaeger barracks in Sonthofen on Monday. The unit, trained to cope with nuclear, biological and chemical warfare, is part of the German force to be deployed in the war against international terrorism.
PHOTO: AP
Comments will be moderated. Keep comments relevant to the article. Remarks containing abusive and obscene language, personal attacks of any kind or promotion will be removed and the user banned. Final decision will be at the discretion of the Taipei Times.