New Yorkers dismayed by brawl
PUBLIC PUGILISTS A clash between police and firefighters ended with two black eyes and 12 firefighters arrested, but all felony charges against them were dropped
New Yorkers are shaking their heads in disbelief over a confrontation between firefighters and police -- the "bravest" versus the "finest," and all heroes of Sept. 11. \nFriday's clash ended with two black eyes and 12 firefighters arrested, but prosecutors Saturday dropped felony charges of assaulting police officers and released two detainees. \nMeanwhile, both police and firefighters pointed fingers at City Hall for a controversial decision to hand over control of the disaster site to city construction authorities. \nThe New York police and fire departments have been staunch comrades-in-arms in the wake of the attack on the World Trade Center's twin towers, and the confrontation between uniformed services, with some firefighters being taken away in handcuffs, left witnesses gasping. \nThe conflict underscored the frustrations of the efforts to retrieve bodies, body parts, or any remnant of a life among the nearly 5,000 lost in the ruins of the twin towers. \nThe intact body of a firefighter, one of 347 who died saving lives in the stricken World Trade Center that day, was pulled out of the rubble as recently as Wednesday. \nHis body, wrapped in a US flag, was returned to his widow for a proper burial. \nHis comrades -- dozens at a time -- have been searching at the site, known as "Ground Zero," for human remains, working alongside a removal crew using cranes and bulldozers, carting off up to 10,000 tonnes of debris each day to a landfill on Staten Island called Fresh Kills. \nBut the city decided to curb the recovery efforts citing safety concerns, and the firefighters took their anger Friday to "Ground Zero." They wound up confronting their police comrades in a clash that left five police injured and 12 firefighters arrested. \nNew York tabloids Saturday headlined: "Bravest vs. Finest" and "Ground Zero Fury." \n"I felt embarrassed actually. We've looked to them as leaders. We've put a crown of nobility on them. ... To see our bravest and finest at each other, it's very difficult to accept," said Larry Smith, a city resident. \n"We don't want to find remains at the Fresh Kills," where some body parts have in fact been found, Peter Gorman of the United Firefighters Association said Friday. \nThe UFA estimates more than 265 firefighters remain lost in the rubble. \nThe police, who also lost comrades in the tragedy, naturally feel the same way. A police officer told local television: "At the next rally, police will be there too. We're not allowing our heroes, their heroes and the people of New York City carted off to the dump." \nBut Mayor Rudolph Giuliani stood by the decision to cut back recovery operations to what the UFA called a "skeleton crew." \n"We were given very, very strong advice several weeks ago that this site is a disaster waiting to happen," he said, and he rejected allegations that financial considerations were behind the decision to curb the recovery operation, which has cost the city millions of dollars in overtime pay. \nFirefighters' union representatives said they regretted that police officers were injured but claimed that they were not looking for confrontation, and that police had provoked the clashes. \nThe number of search and recovery workers at the site will be reduced to 75 -- 25 each from the firefighting, police and port authority police services.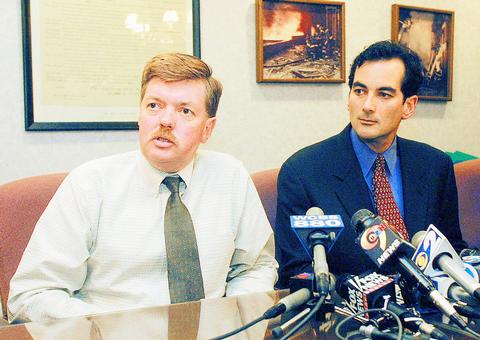 Peter Gorman, president of the Uniformed Fire Officers Association, addresses the press while union attorney Steven Rabinowitz looks on.
PHOTO: AP
Comments will be moderated. Keep comments relevant to the article. Remarks containing abusive and obscene language, personal attacks of any kind or promotion will be removed and the user banned. Final decision will be at the discretion of the Taipei Times.