Refugees crowding Iranian border
FLEEING AND FORGOTTEN Attention has focused on Afghan refugees trying to get to Pakistan, but another refugee crisis on the border with Iran is being ignored
She cowered behind her family's makeshift shelter, too nervous or traumatized to look up, except to shoot anxious glances at her husband as he described their desperate plight. \nOn her lap lay their young son, squirming in pain until she covered him with a shawl. The woman's husband, Abdul Rahman, said the boy was two years old. But thin and badly undernourished under his wrappings, he looked much younger -- almost a baby. \nSitting silently next to them on the plastic sheeting was the couple's other son, aged four. His brilliant blue eyes sparkled even as the dust swirled about his face and his mother began to sob into her shawl. "We are destitute," said Rahman, arms spread wide for emphasis, almost encompassing their whole, tiny world. \nA blanket slung over a long-handled shovel and a borrowed bicycle was their only shelter. "We have been broken," he said. "Completely broken." \nThis family is part of the growing number of refugees now rapidly congregating at the southern end of Iran's border with Afghanistan. \nWith so much attention centred on those trying to get into Pakistan, this other looming refugee crisis has been largely ignored. \nBut Iran is also keeping its borders closed, the authorities there unwilling to add to the estimated 2.5 million Afghan refugees already in the country after years of conflict and drought. Border guards have orders to shoot, and there are reports of deaths and injuries among those trying to cross illegally. \nAlready serious, an expected rush of 100,000 refugees -- as the American bombing continues and winter rapidly approaches -- can only mean that these conditions become much, much worse. \nThe main reception area is at Makaki, near the Iranian border town of Zabol, a hastily-constructed camp about 8km inside a Taliban-held area of Afghanistan. There are not enough tents. People who have arrived in the past week have been left to find their own shelter. \nThey congregate around the few bee-hive shaped, derelict farmhouses -- relics from when, before the three-year drought, this was an area of intense, fertile cultivation. They erect windbreaks from whatever they have brought with them or whatever they can find. \nAt least 22 families had trekked from the northern city of Mazar-e- Sharif, 620km away, to reach Makaki camp. But Rahman added that along the way he had heard that there might be as many as 2,000 families heading in that direction. If they were all to arrive, then the camp would be simply overwhelmed. \nAlready, according to Abdul Laal Zaad Raheem, the local Taliban border commander, there are more than 7,500 people in the camp, with a further 300 to 350 families now waiting to get in. "For the past six days people have been coming here and they do not have a place to stay or medicine or doctors," he said. "There is nothing here for them to gain assistance. We ask all the agencies of the world to help us." \nAround the camps, Taliban fighters take on the role of impromptu policemen. Whenever we stopped to talk to people, a curious crowd would gather. Until, that is, they were chased away by young Taliban wielding lengths of metal taken from around packing cases. \nTwo men undeterred by this came forward to show handfuls of shrapnel and alloy fragments. "It comes from cruise missiles and the bombardment," said one, Said Abdullah, from a village near Kandahar. \n"My own brother was killed," he said. "I was there and the house came down after it was hit by a cruise missile. There were nine people in the house, but only one person was left." \nSaid Abdullah claimed that a bridge that one group was crossing was hit by a bomb, and about 15 people were killed. "George Bush should kill his enemy. Why is he killing us?"he asked. "He is killing innocent people, he is killing the public."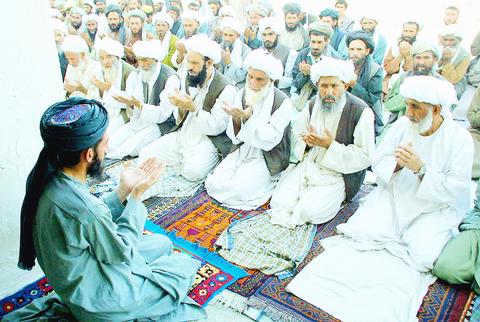 Afghan Sunni Muslims perform prayers at a refugee camp at Niatak, some 3km from the border with Afghanistan, near Iran's southeasten city of Zabol. Iran is host to some two million Afghans who fled their homes during the Russian invasion in 1979 and during the subsequent rule of the Taliban regime.
PHOTO: AFP
Comments will be moderated. Keep comments relevant to the article. Remarks containing abusive and obscene language, personal attacks of any kind or promotion will be removed and the user banned. Final decision will be at the discretion of the Taipei Times.